FREQUENTLY BOUGHT TOGETHER
Main Features:

Use with Much More Convenience with stop function on traditional switch:A really good substitution for one more new smart roller blindsswitch to work with your traditional curtain switch to realize intelligence.Press your traditional curtain switch once after switch to up/down (on the same button)to manually stop your curtains easily.Also,it can be connected with your roller blinds shutter motor to smartly control your curtains.   
RFand Wireless Remote Control with a much easier pairing mode for adding the device with WiFi and Bluetooth connected:Enable to remotely control your connected appliances on your smart phone wherever you are. 4 b/g/n Networks provides the needed connection to the DIY Switch Module without the need of a separate HUB.(Compatible with Android&iOS for Smart Life and Tuya App.)More importantly,this curtain switch module is built-in RF433 frequency,so it can be controlled with remote control switch with encoding 1527.
Hands-free Voice Control:Compatible with Amazon Alexa and Google Home for easy voice control,providing your smart life for controlling curtains with much more convenience.
Timer Setting:Take full control of your roller blinds intelligently with the timer feature on your App,which enables to open / close them at a specific time automatically. Automate your home curtains via 3 timing types:schedules timing,countdown timing and loop timing.
Family Sharing:One device can be shared to different family members that means one ID is able to control multiple curtains,or multiple users can control one curtain.Control your smart home with your family members or friends together.
Note before order:
Please check your motor is with 4 wires before make your order(Note:Motor not included,need a separate purchase.)
This roller blinds switch module can not work with DC motor.
This switch module is a Wi-Fi version only,not with RF,so it can not work with the RF remote in our store.
Parameter:
Product type: WiFi Curtain Module
Voltage: 90-250V AC 50/60Hz
Current: 2A
Power Load:500W (Max.)
WiFi frequency: 2.4GHz WiFi
Operation temp: -10℃-+40℃
Case temp: Tc +80℃(Max.)
Operation range:≤200m
Dims(W*D*H): 52*47*18mm(without clip)
IP rating: IP20
Warranty:1year
Package Listing:
WiFi Curtain Module*1(with mounting clip)
Instruction Manual*1
Note:Motor not included,need a separate purchase.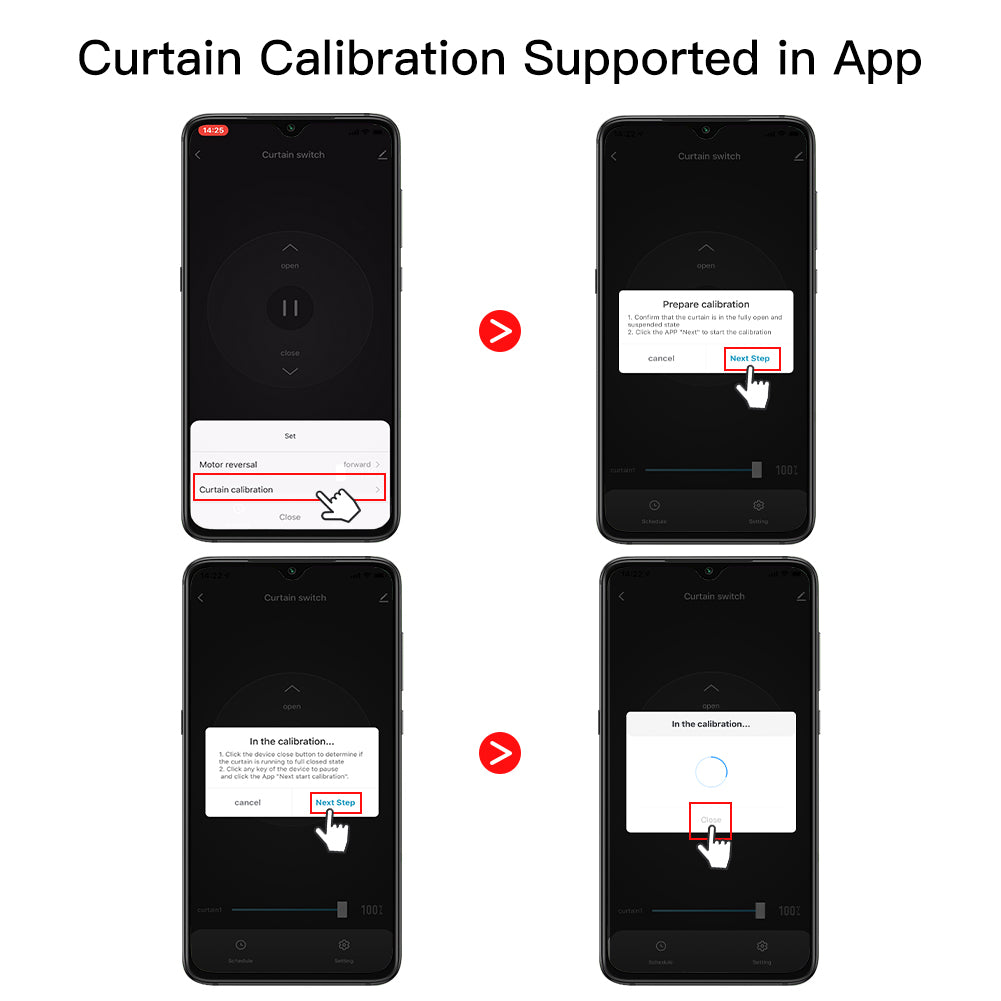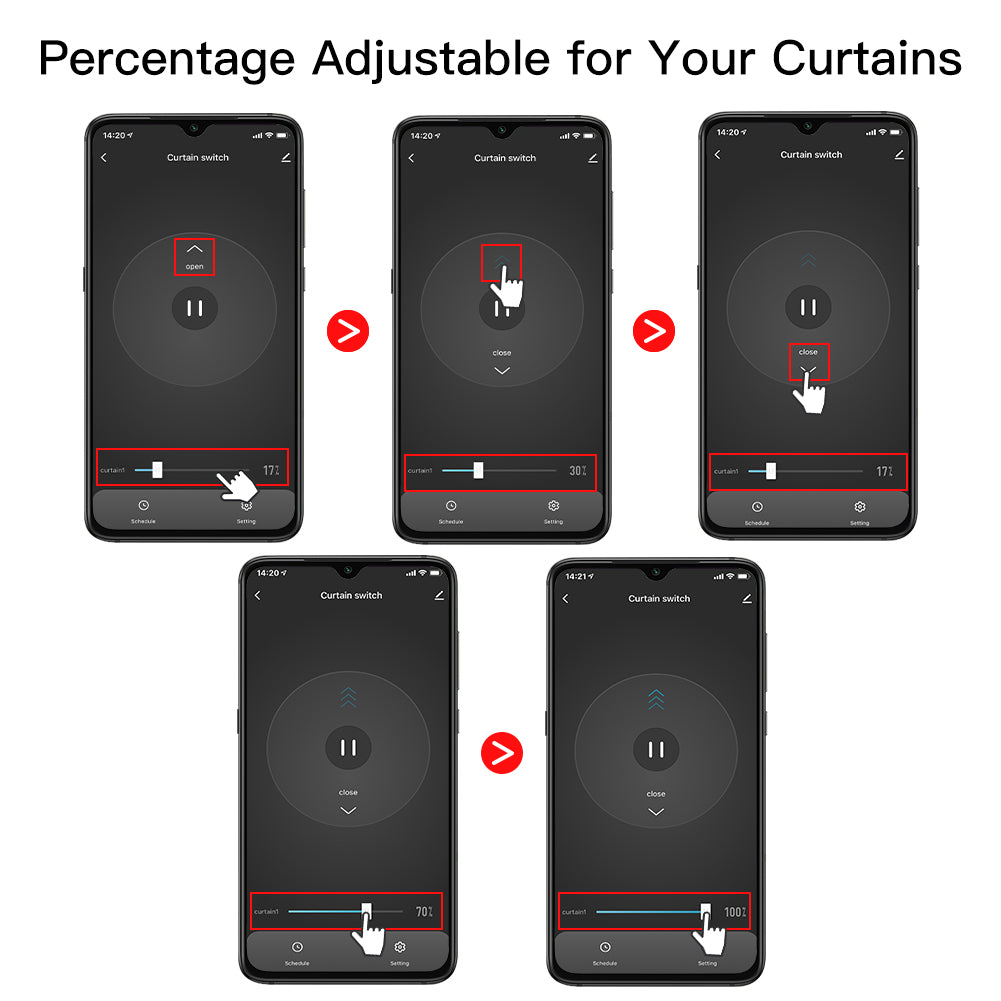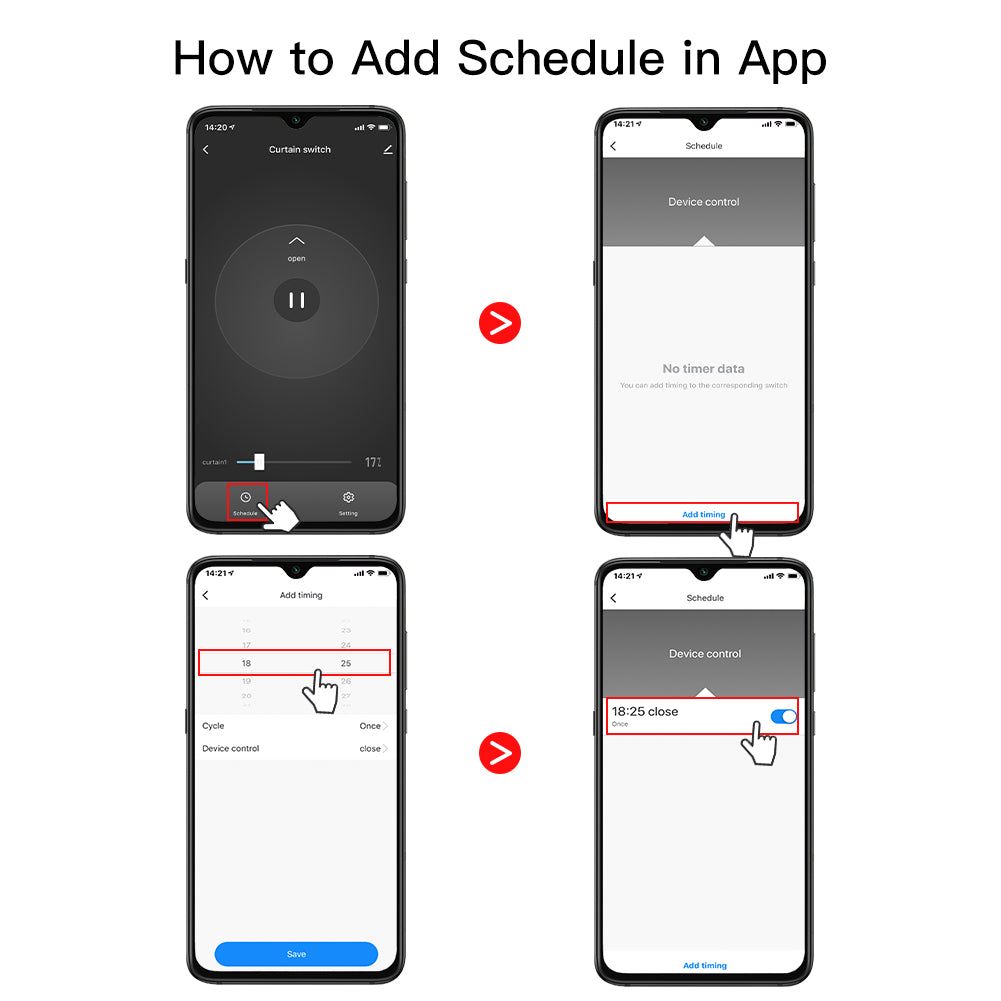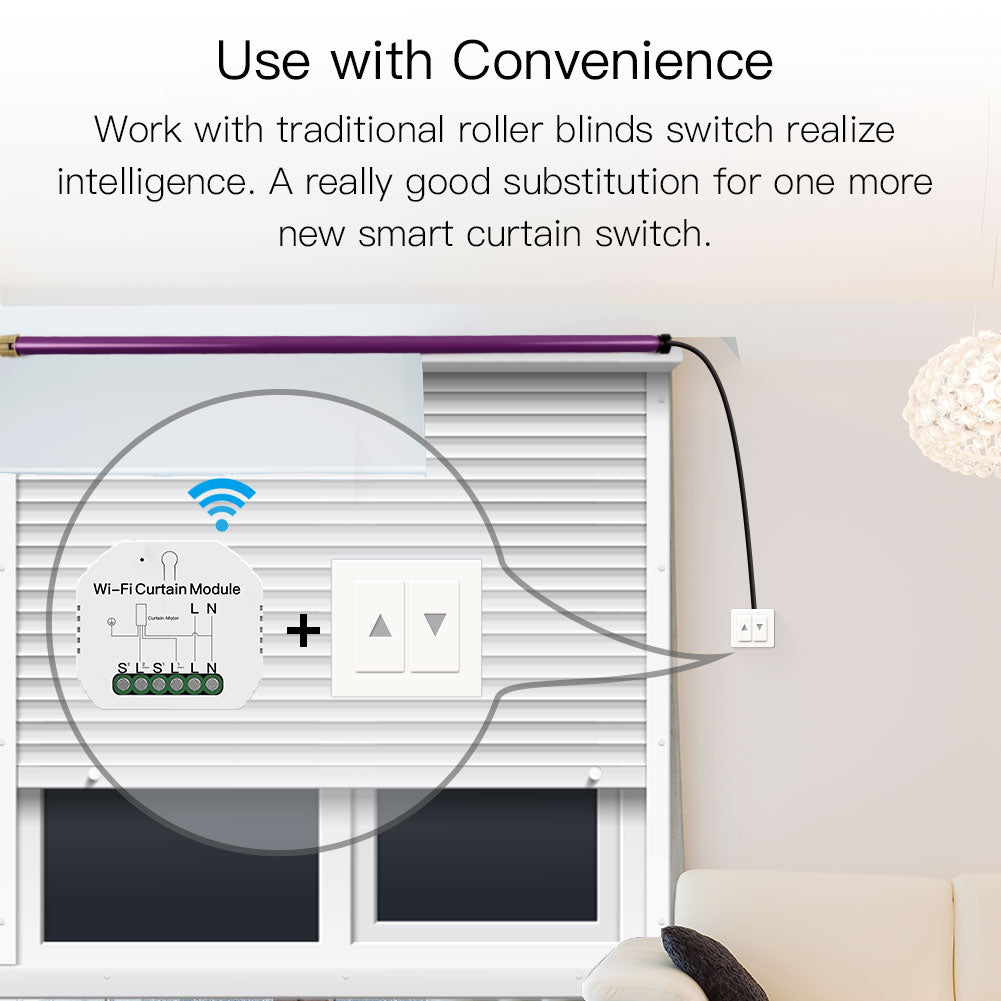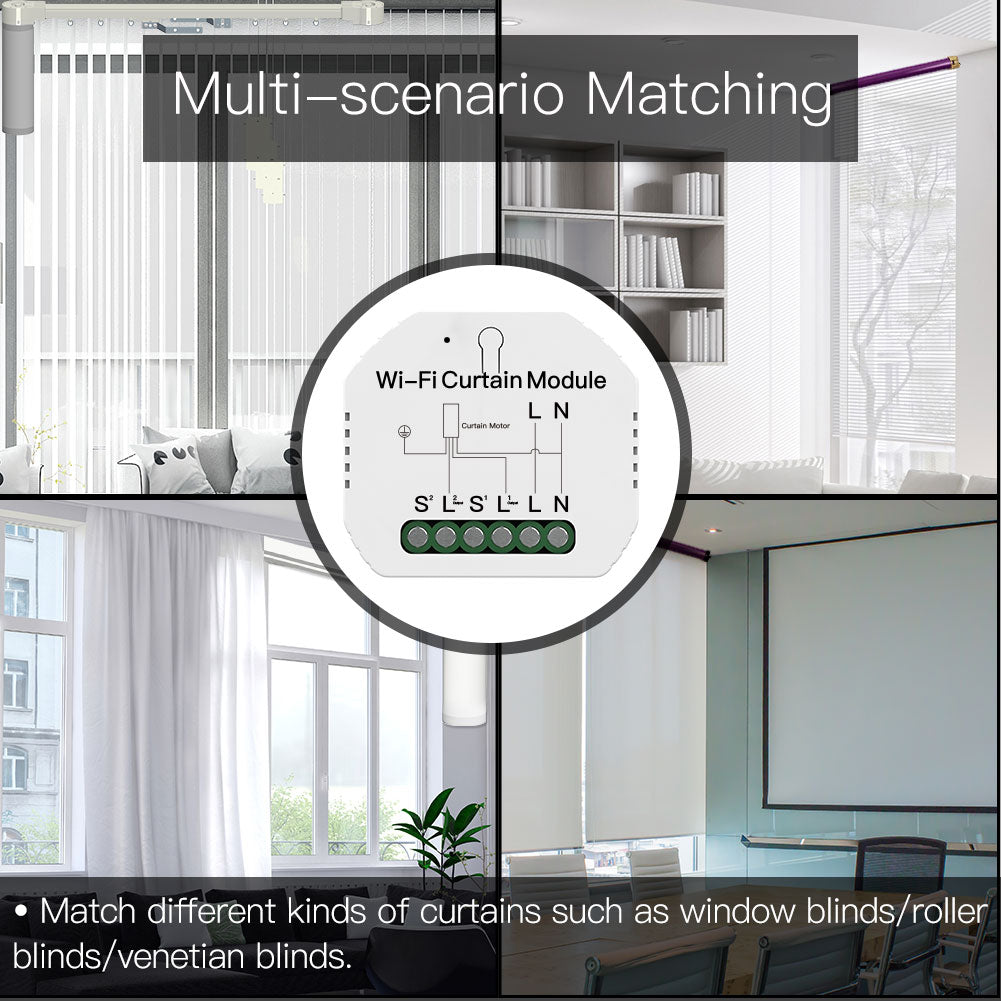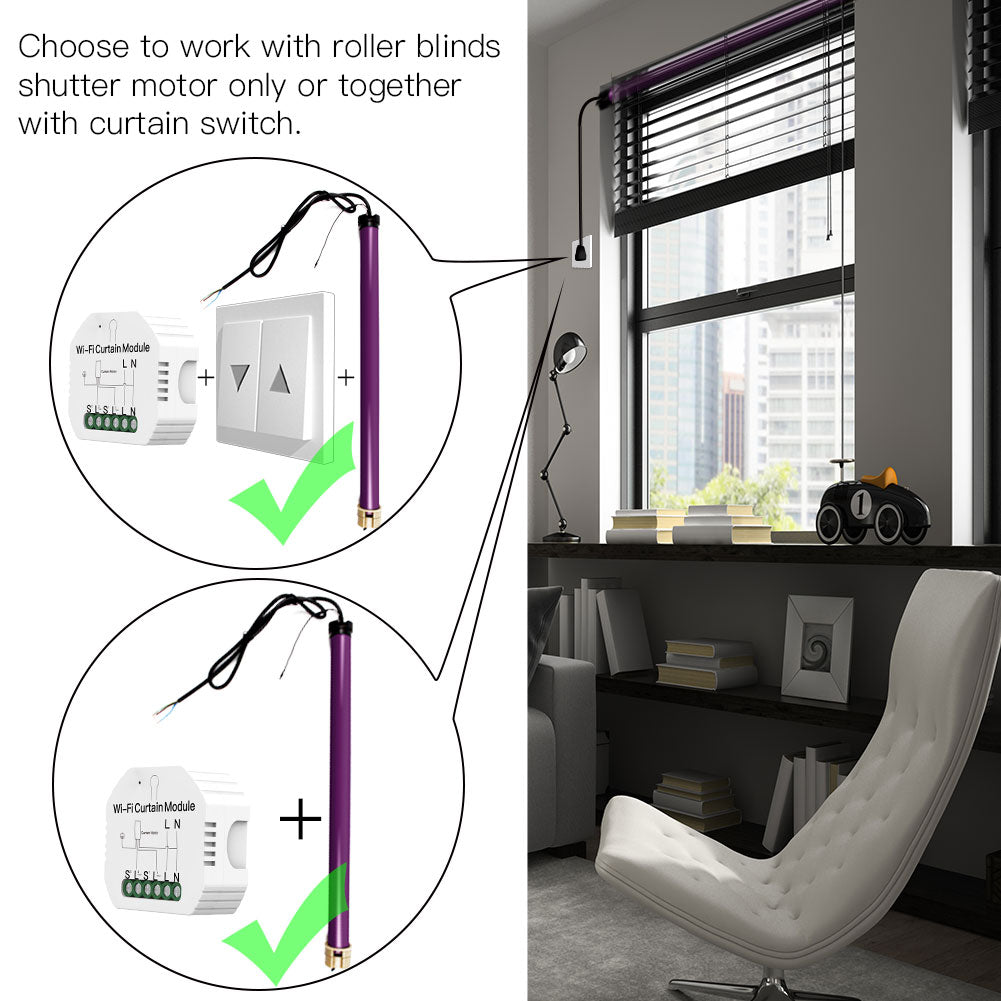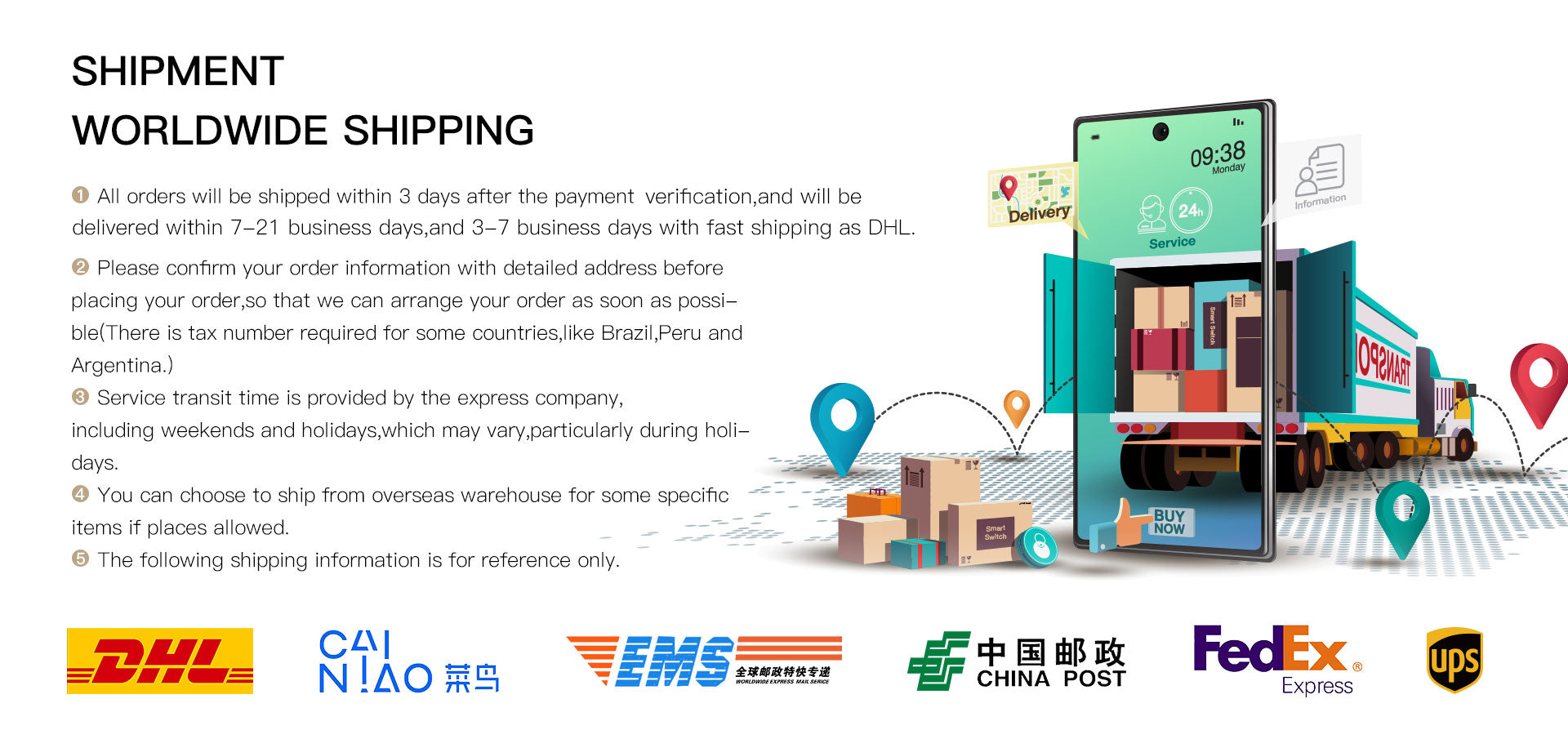 Q&A:
Q:Does this work with Google Home?
  A:Yes,it does.And it's also compatible with Alexa.
Q:Do I need to buy a hub to work with the curtain module.
  A:No,there is no need for you to buy a hub and no hub required for the module.
Q:Can I control the module with my own remote control switch?
  A:This type of curtain switch module is no RF433 built in,so it can not work with RF433 remote control switch in our store.
Q:Shall I buy a smart curtain switch to work with this module?
   A:No,you can just connect the module to your traditional curtain switch to realize intelligence.
Q:What should I do if I can't configure the curtain module?
A:a:Please check whether device is powered on.
b:Make sure your mobile and curtain module are under the same 2.4GHz wifi network.
c:Whether it's in good internet conditions.
d:Make sure the password entered in App is correct.
e:Make sure the wiring is correct.
Q:Which products can I control with the device?
   A:Curtains,shutter,blind....
Q:What happens if the wifi goes off?
   A:You can still control the device connected to the curtain module with your traditional curtain switch and once wifi is active again the device connected to the curtain module will connect automatically to your wifi network.
Q:What should I do if I change the wifi network or change the password?
   A:You can connect the module to the wifi network according to the App User Manual.
We ship worldwide and most countries support free shipping.
(Other countries need to pay extra shipping cost.)
The time frame for order delivery is divided into two parts;
Processing time:Order Verification,quality check and packaging.All orders are sent to the manufacturers for dispatch within 24 hours after the order is placed.The manufacturer and China Post process the orders,which takes an additional 2-4 days.
Shipping time:This refers to the time it takes for items to be shipped from our warehouse to the destination.US orders are shipped by e-Packet,which usually take between 7 and 21 business days to arrive at their destination,and sometimes it will take longer.Besides,DHL,FeDex etc are also available.
Once you have alerted us you wish to make a return through an email contact.We will email a link to start the easy return process.
We can accept Paypal and Credit card.