Sale price
$45.99
Regular price
$55.99
Unit price
per
Save 18%
Sold out
Features

Smart Tuya ZigBee Radiator Actuator Thermostat: New mini design with simple and clear LCD display screen on the body, the radiator thermostat is with LCD digital display screen and two sections of AA batteries powered, which is a special valve using cooperatively with heating radiator. Artificially set indoor temperature, mainly used in the floor heating system to control the closing and opening of the pipe.
A Tuya ZigBee Wireless Gateway Hub is a Must: It connects to the valve many other ZigBee smart products and realizes the whole linkage of your smart home devices. Simply add your gateway to the App, then add your radiator actuator to your gateway in the App.
Programmable Schedule with Weekly Programming Selection: Supports manual set up 5+2, 6+1 and 7 days weekly schedule with 6 periods for option, providing you with the maximum convenience for different situation and setting customized schedule for your house temperature. Holiday mode, automatic mode, boost mode available. Choose workday and restday mode to meet your own mind.
Voice and Remote Control for the Tuya ZigBee Wireless Gateway: Supports App remote control via your smart phone, together with the hands-free voice control via Alexa and Google Assistant after successfully connecting your valve to Tuya/MOES App on the basis of one Tuya ZigBee Wireless Gateway.
Open Window Detection:When room temperature suddenly drop into temp. threshold, valve will close for 15 minutes.After that,if the room temp. is still lower than temp. Threshold,it will keep this mode. Besides, it's easy to read digital display with Celsius temperature.
Specification

Parameter:

Password for APP:123456
Power: 2*2 AA* 1.5V alkaline batteries                 
Maximum current:90mA  
Working environment temperature::-10~60°C
Display accuracy::0.5℃
Default range of temperature adjustment:5~35°C       
Probe sensor::NTC(10k)1%
Range of temperature display::1~70°C                
Thread size:M30*1.5
Insulating condition: Normal environment              
Size(mm): 52*90
Running program: Set per 1 week as a cycle            
Maximum route:4.5mm

Package Listing:

1 * Radiator Thermostat
1 * Bag of Accessory
1 * User Manual

Note:Batteries are not included in the package.
View full details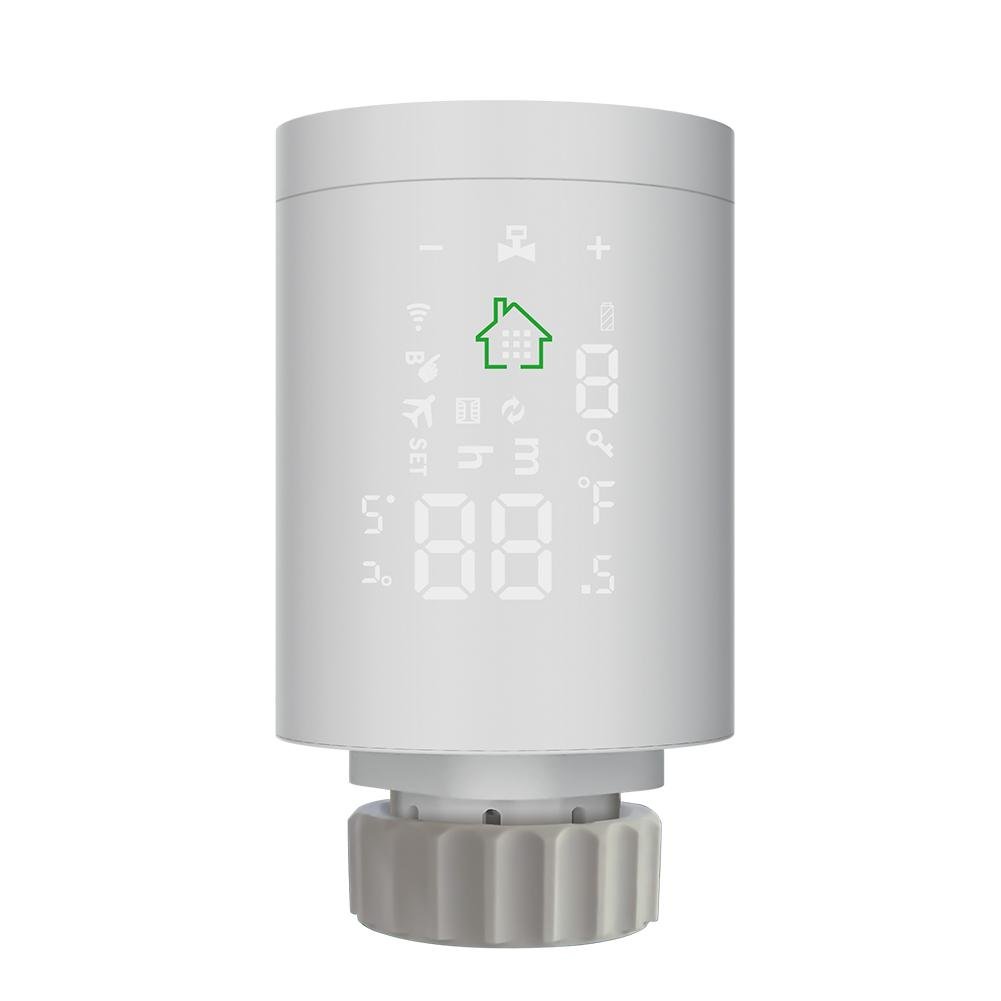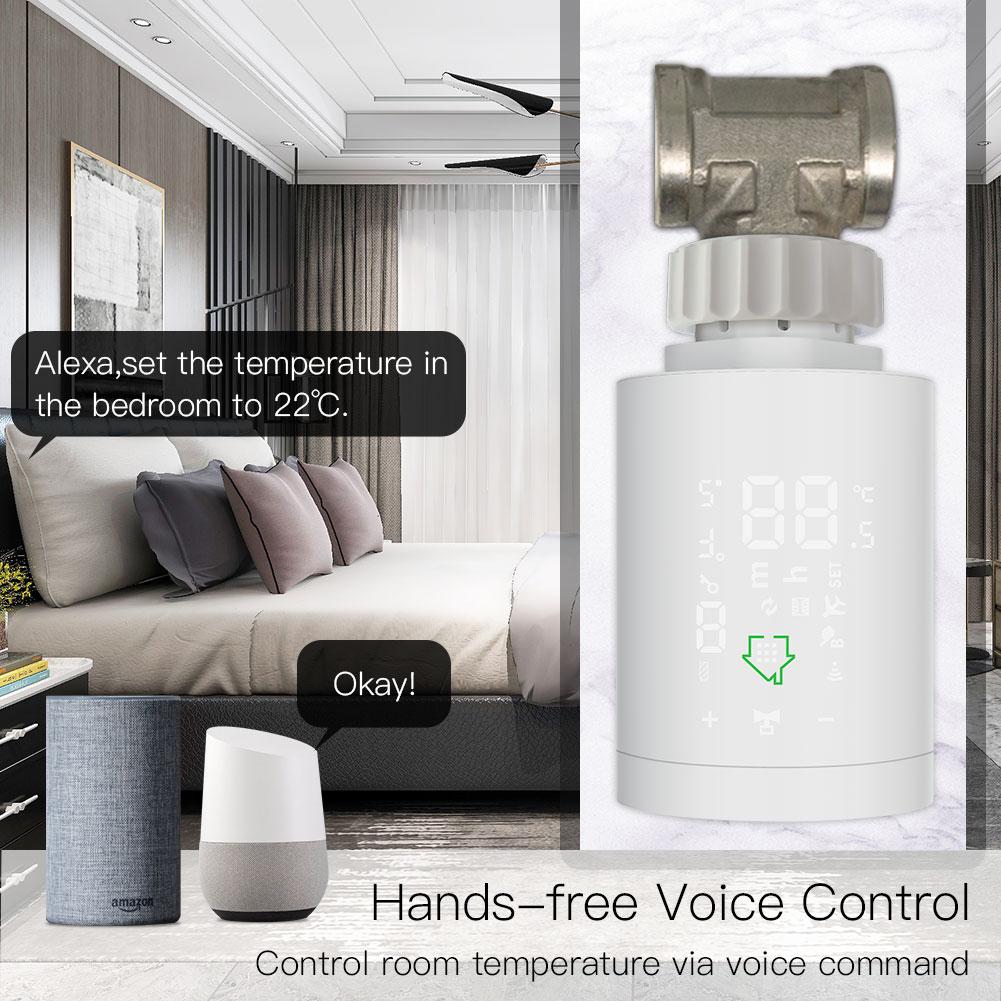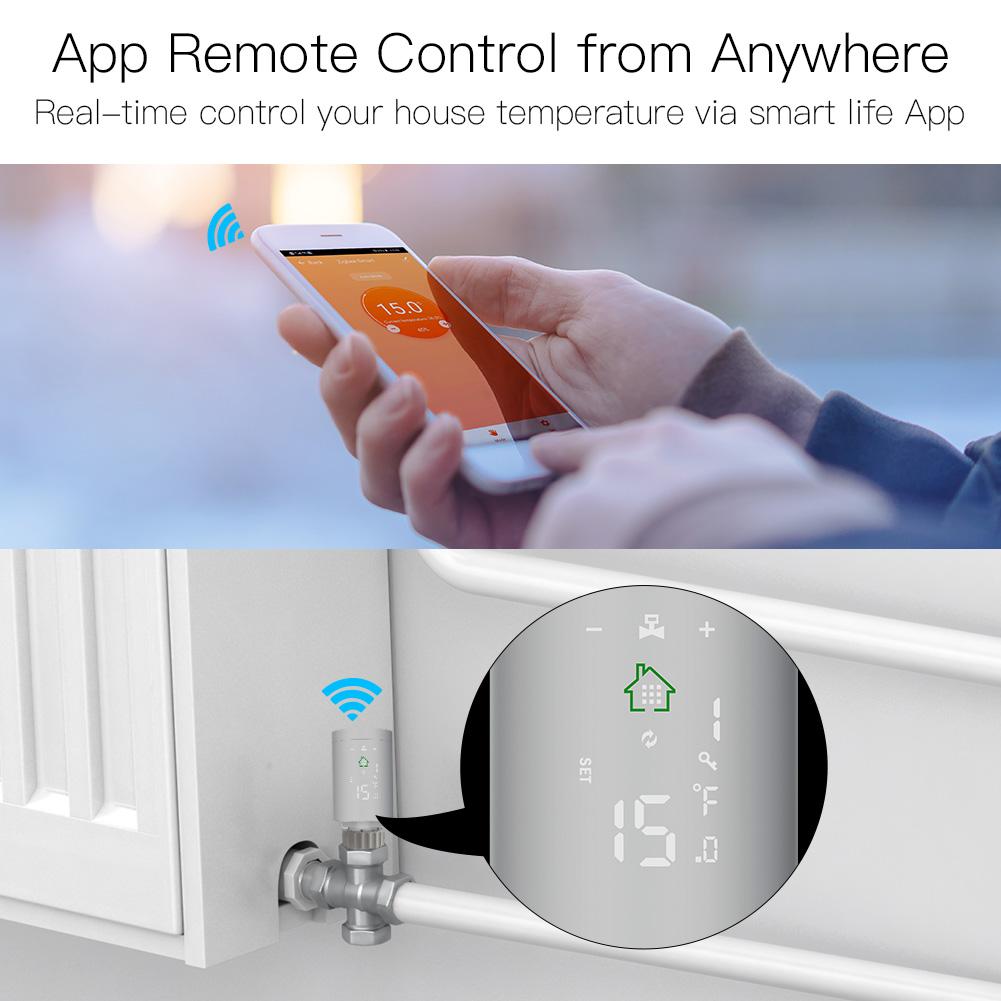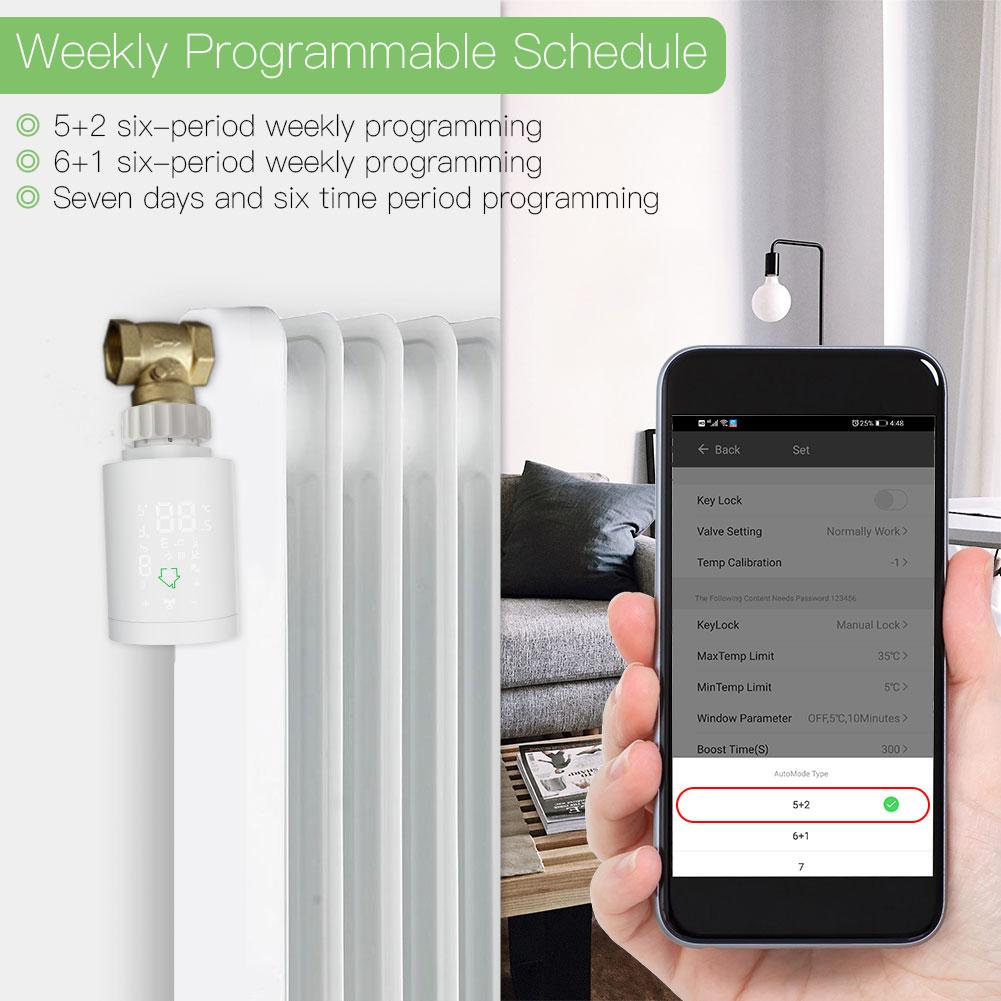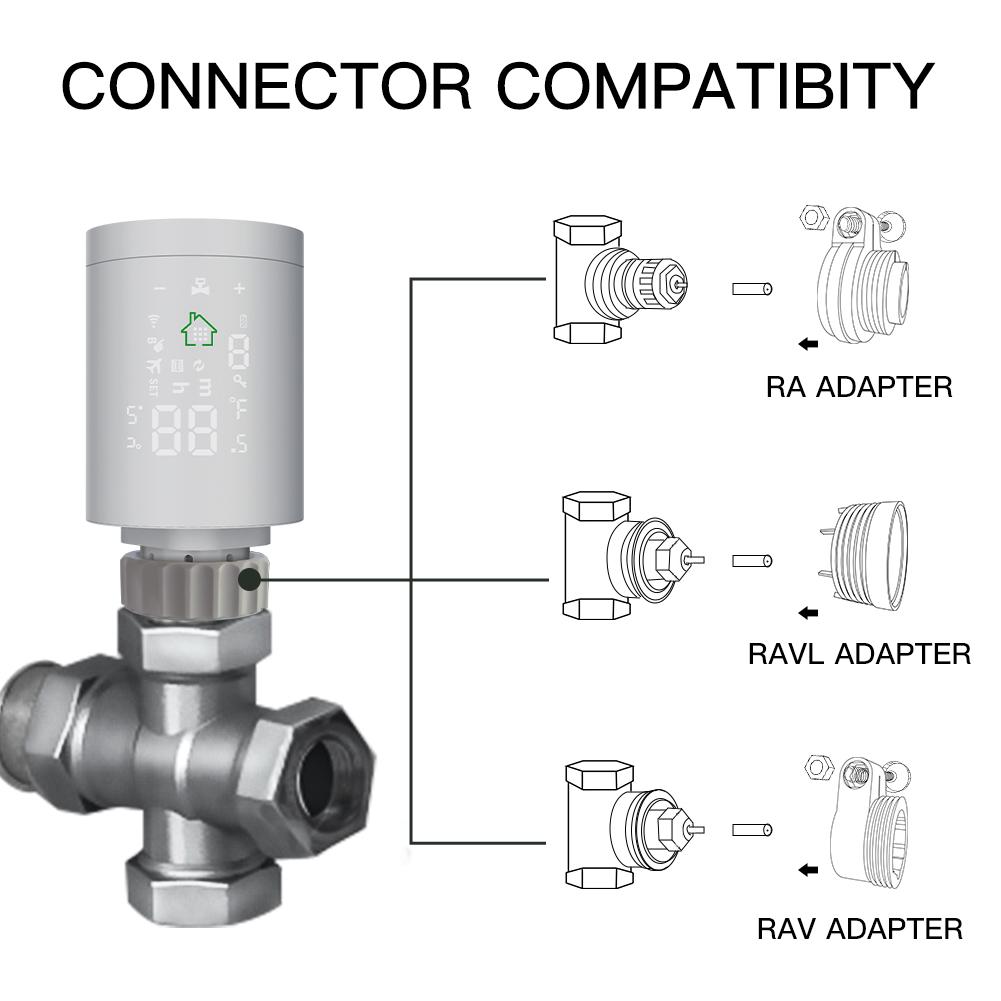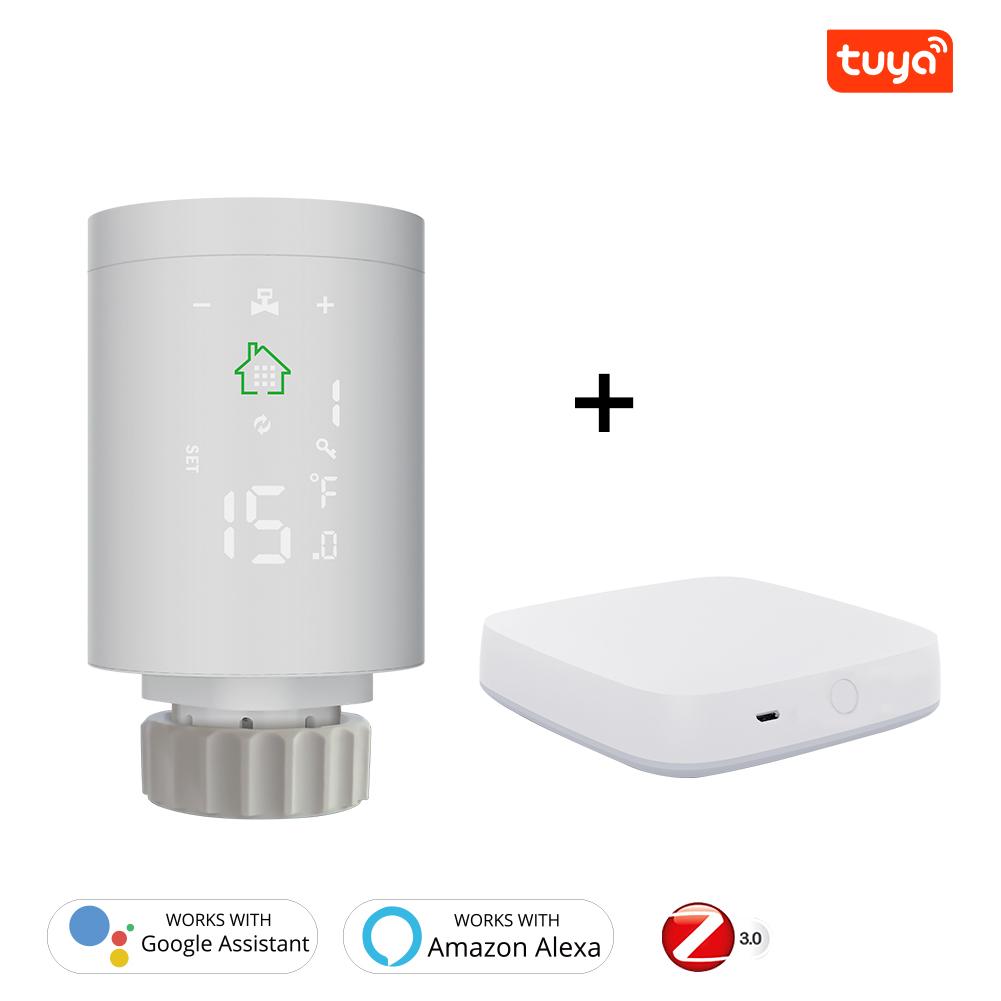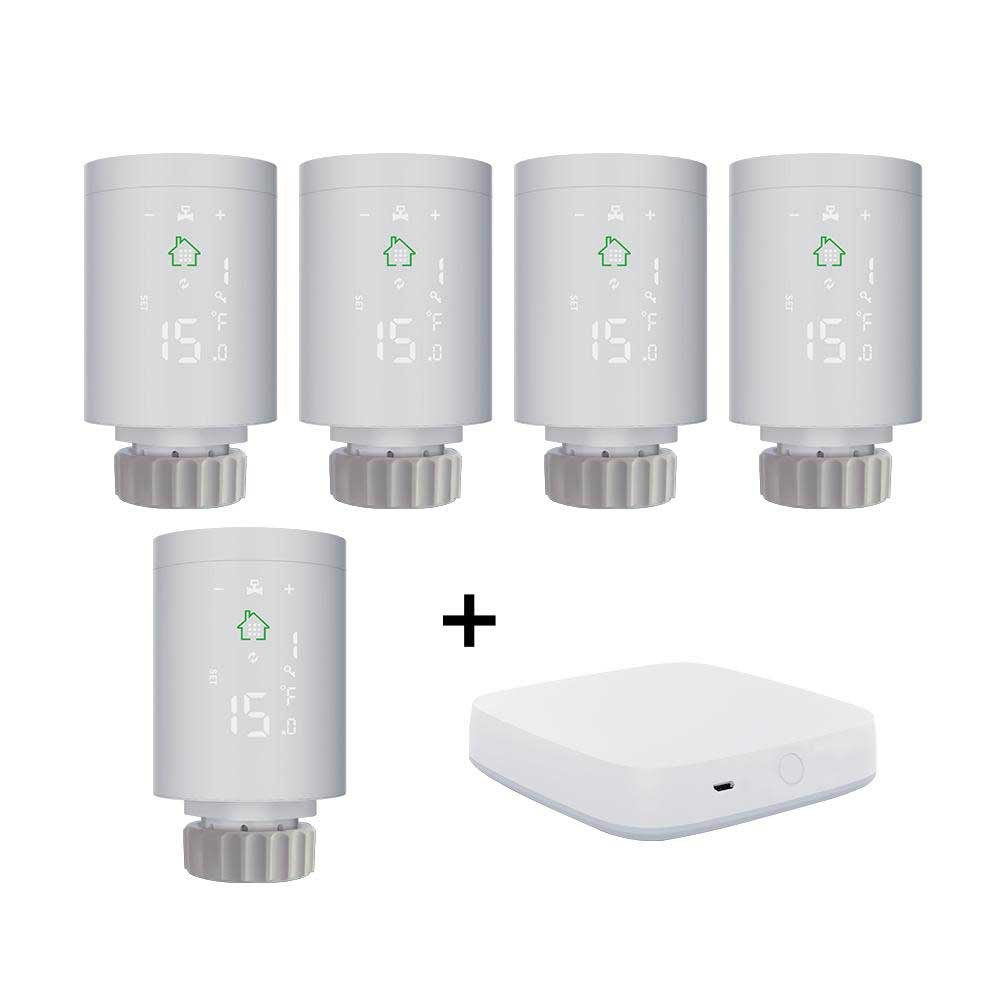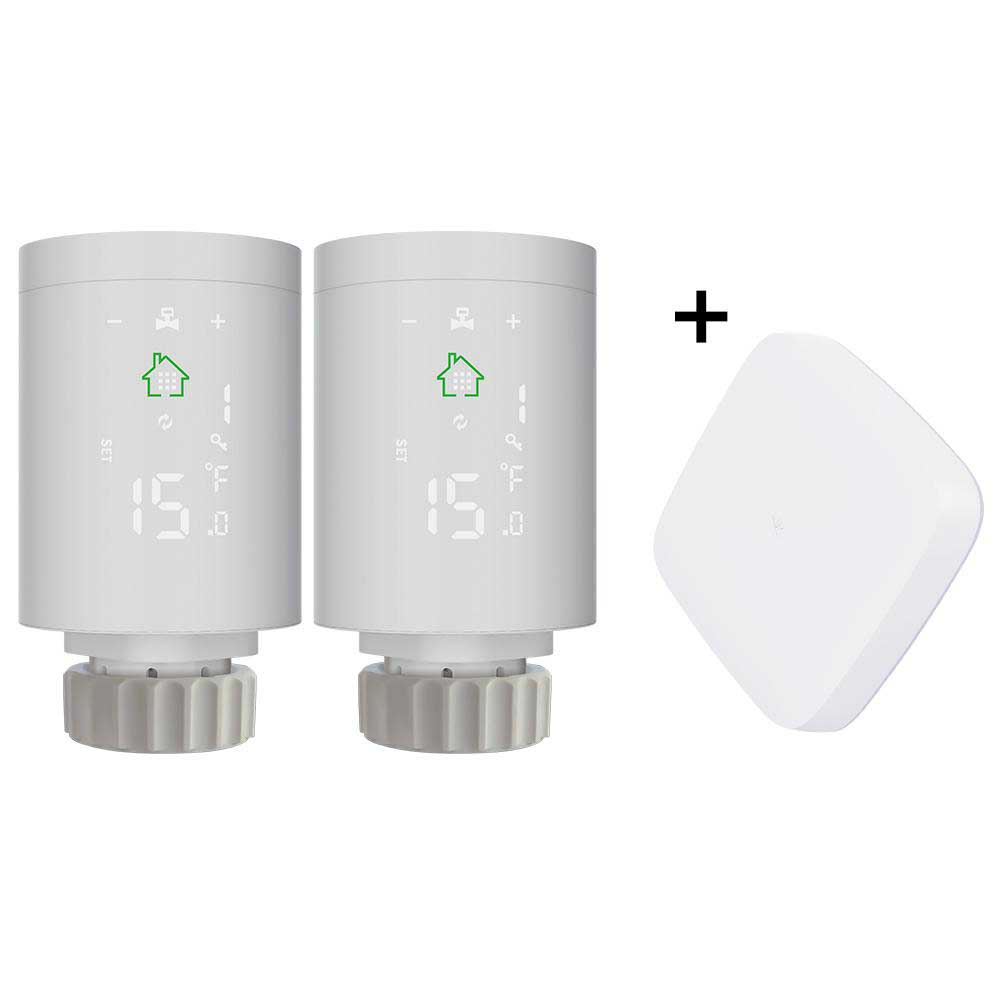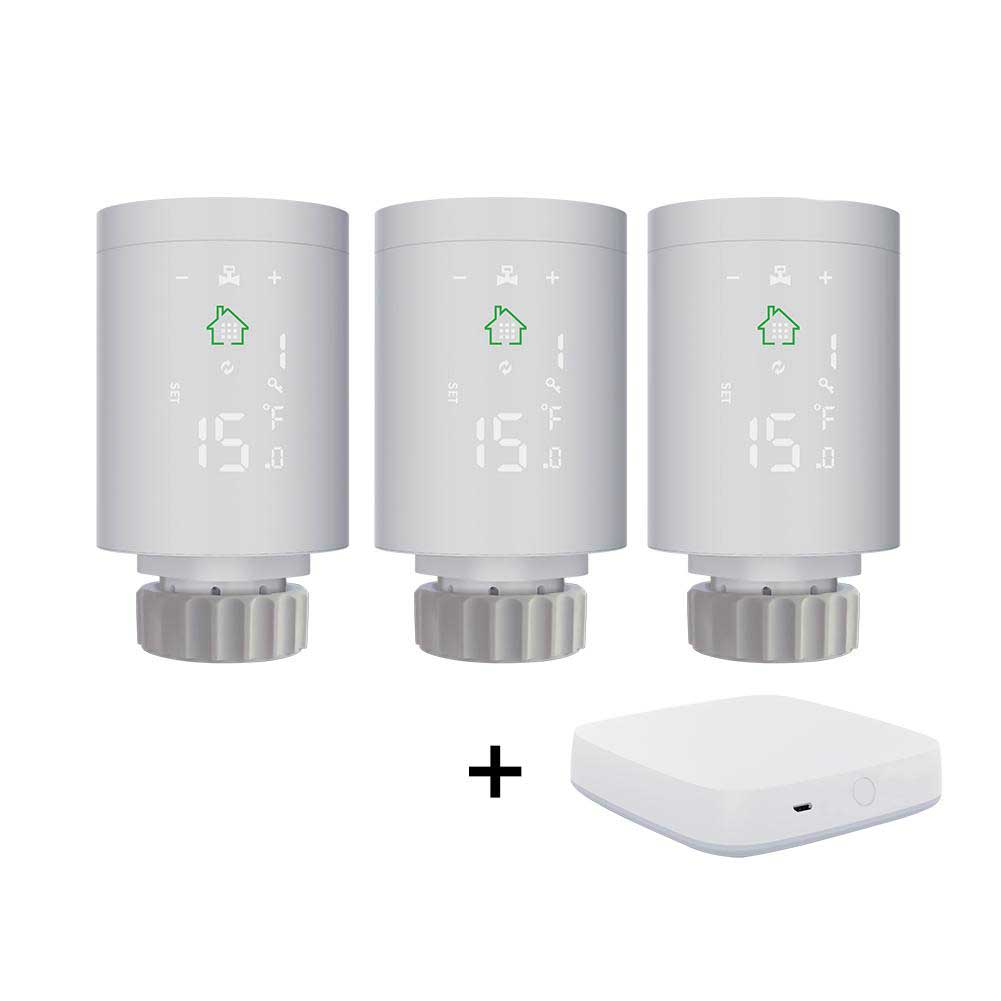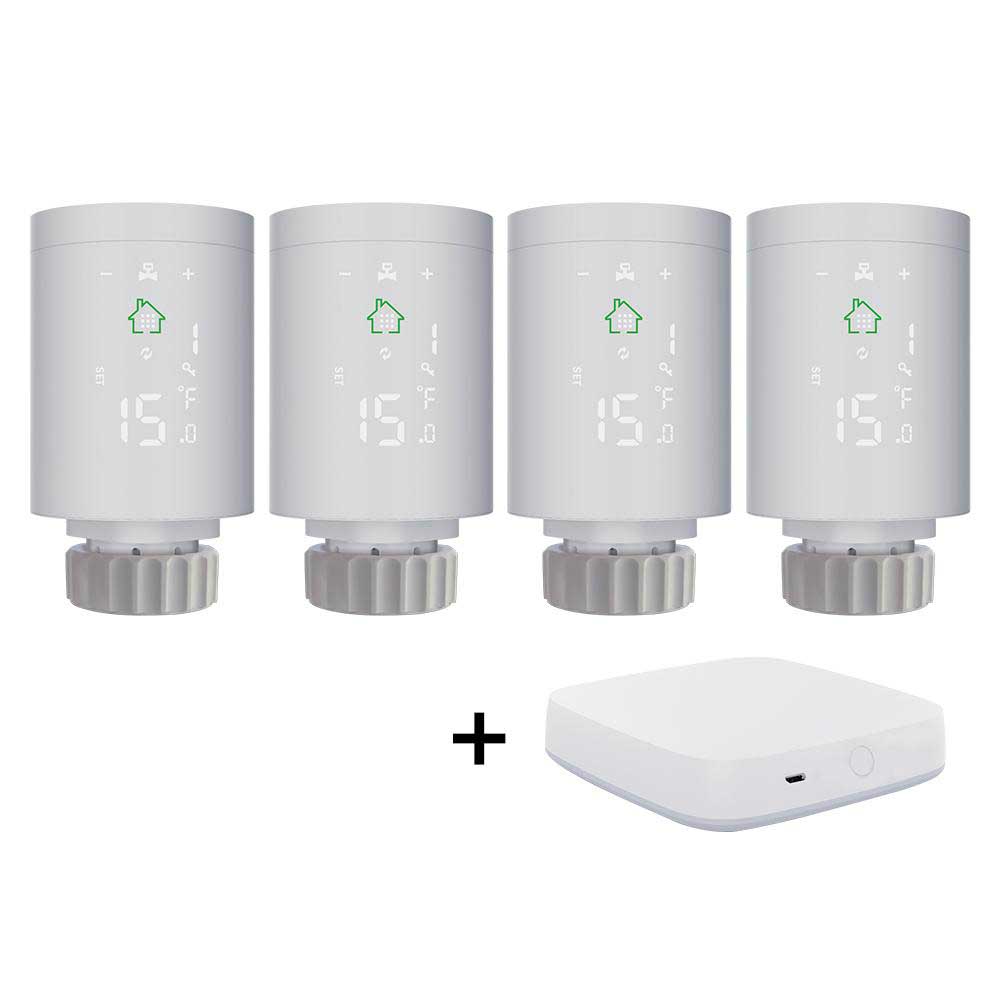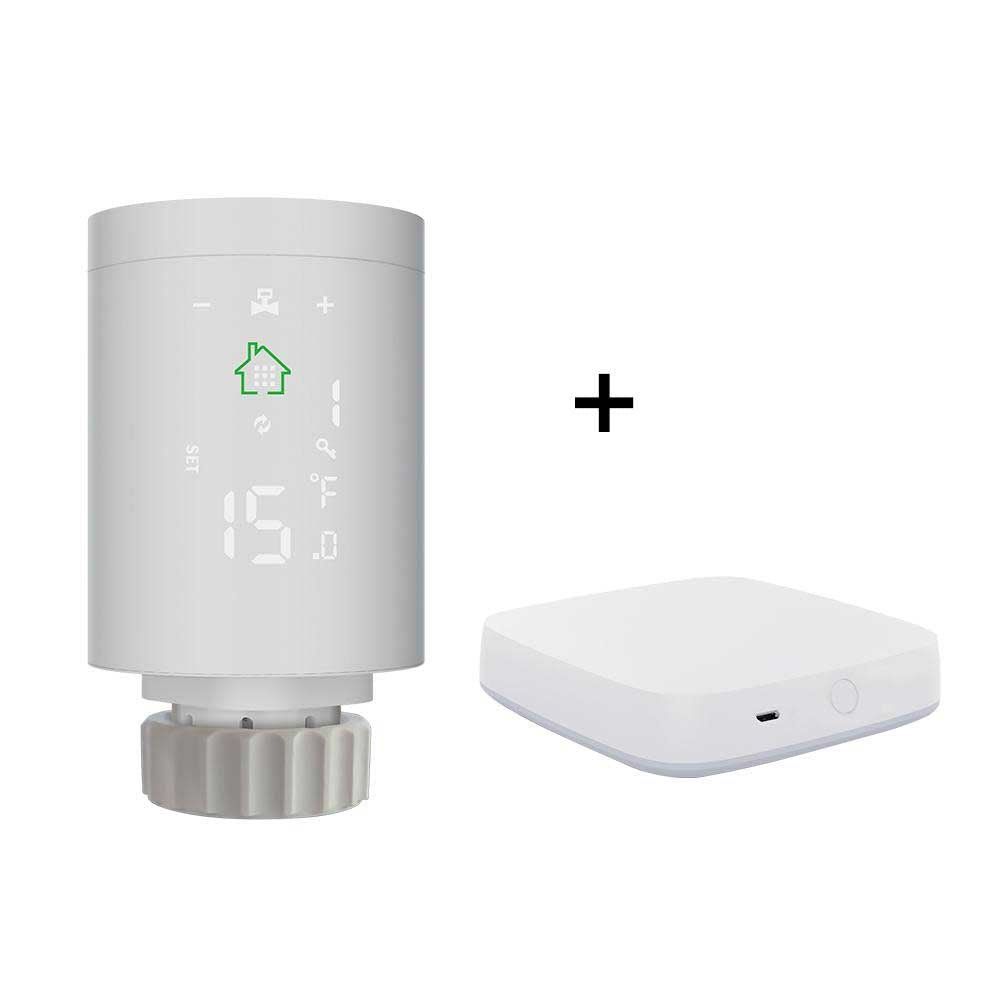 Unlock more features with Smart Thermostat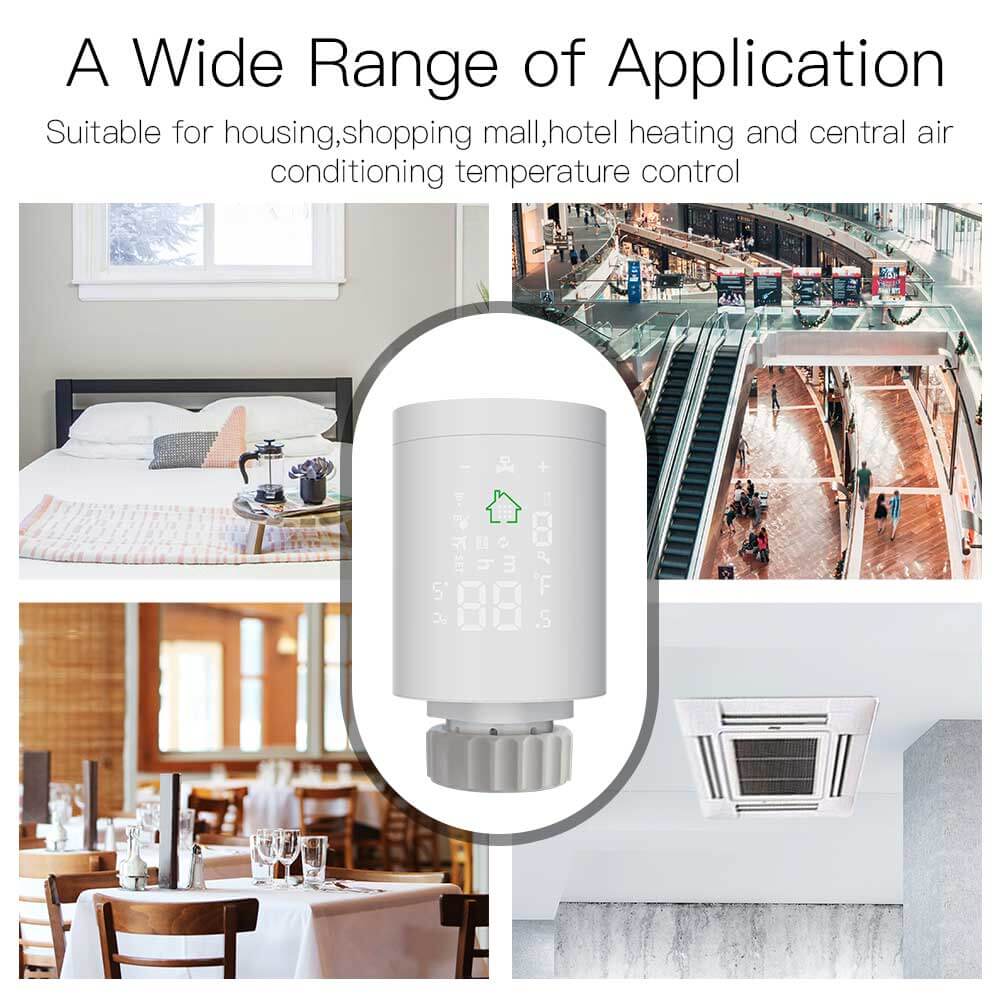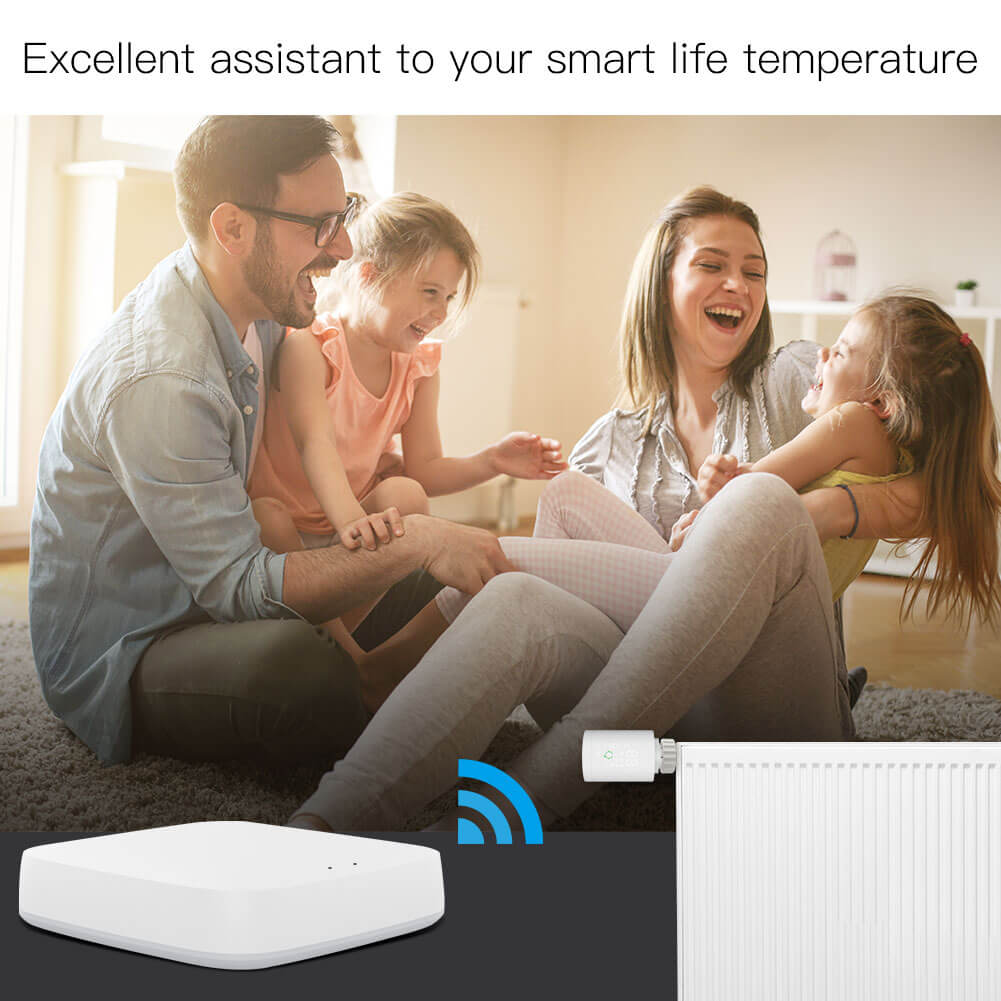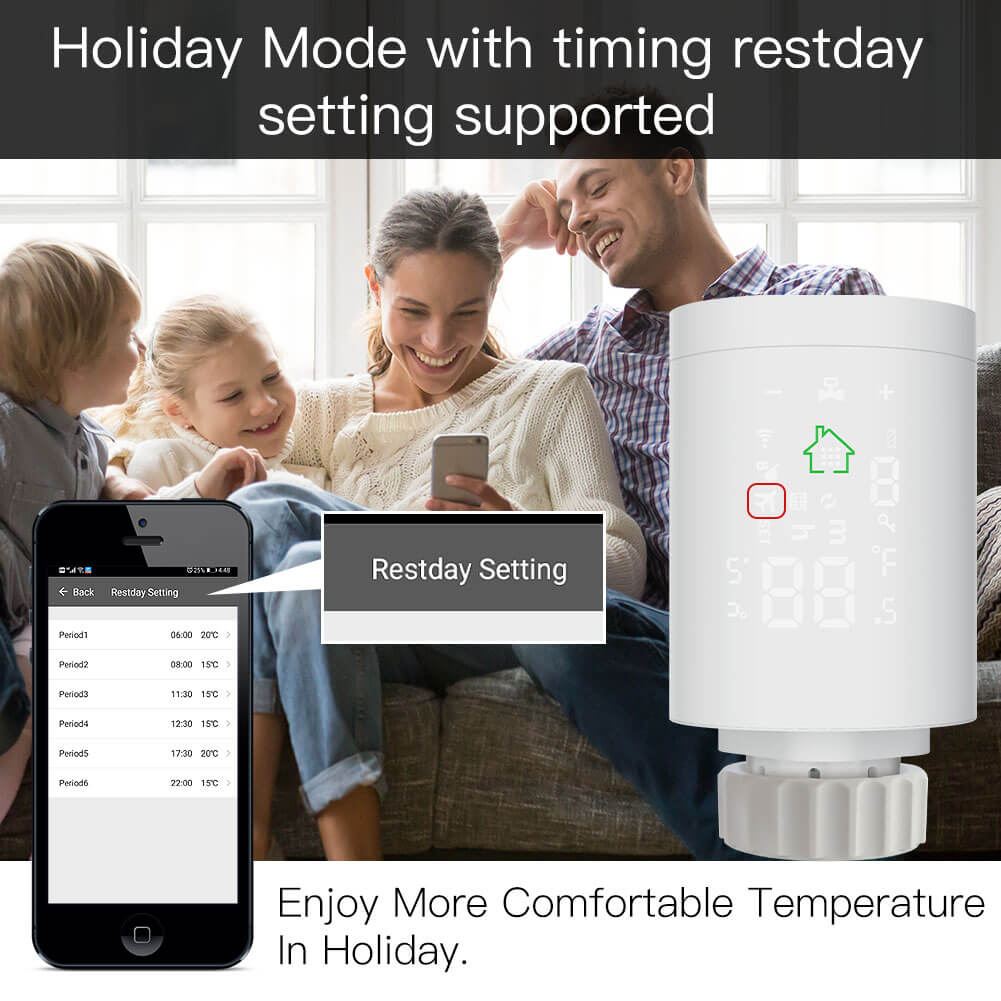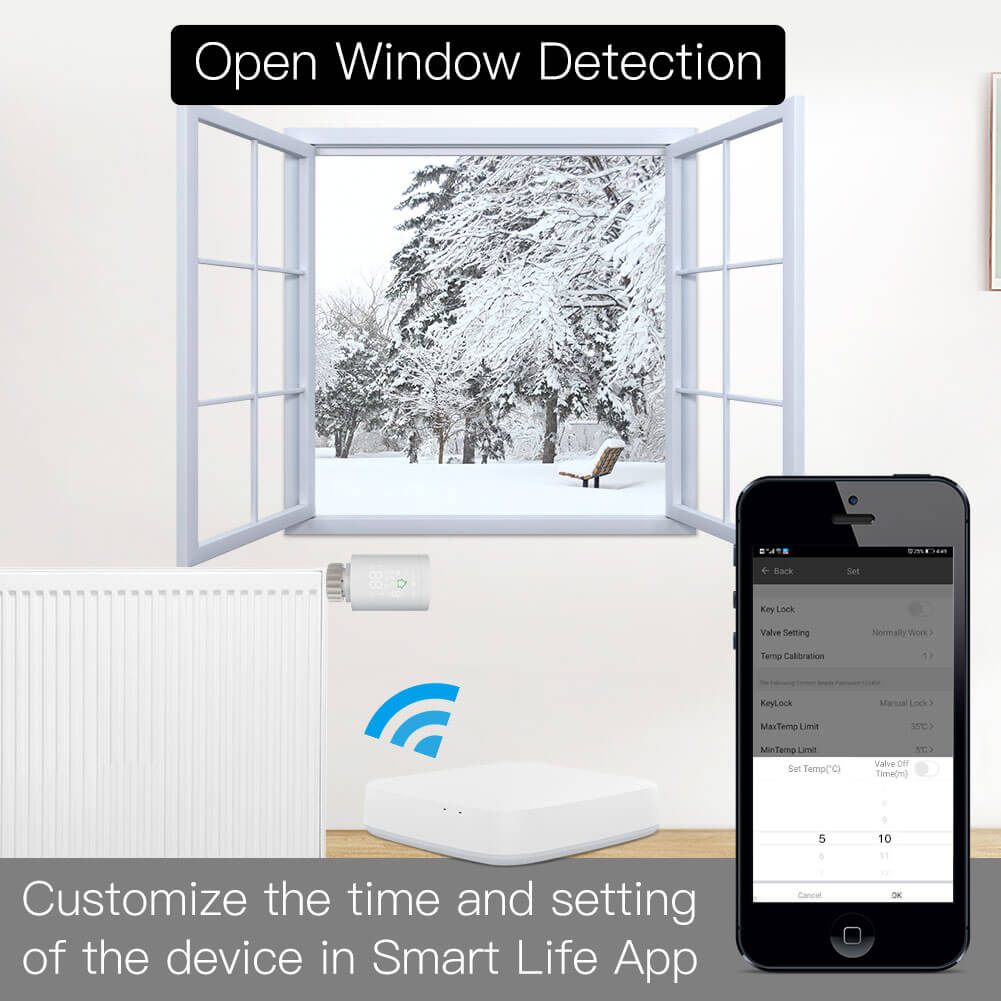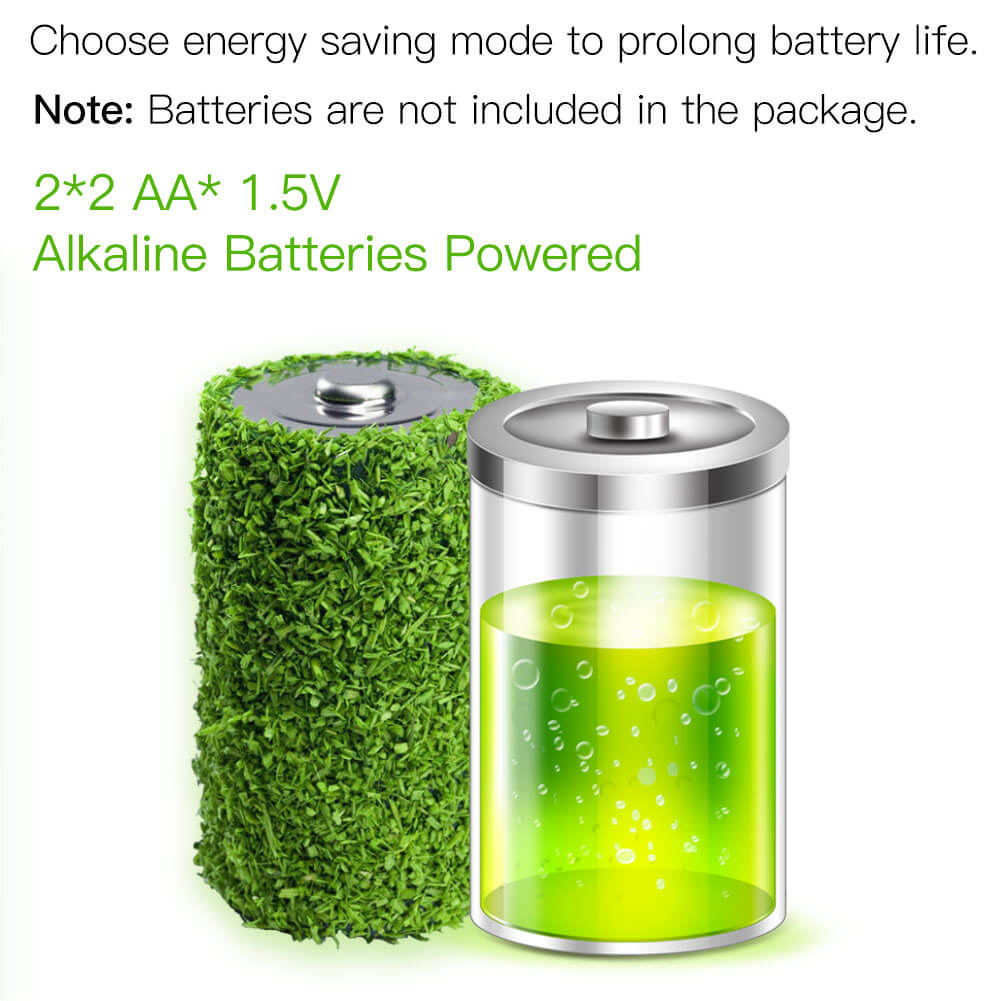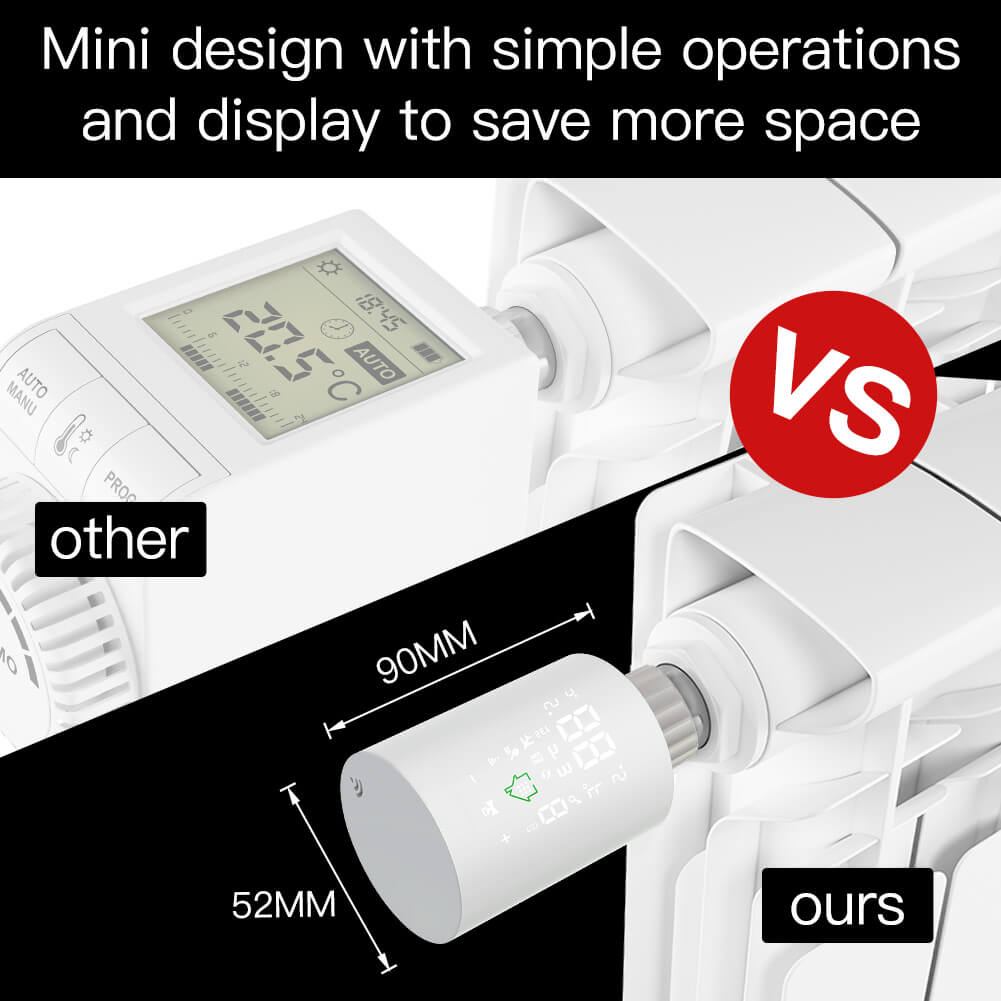 FAQ
Can I use my own hub to connect with the valve?   
No, this radiator thermostat can only be used with our Moes Tuya ZigBee wireless gateway hub,so we offer the set of the two for your to purchase.
Can this thermostat be set to Fahrenheit display?  A:
No, it can only be displayed with Celsius display.
Can I program the schedule myself?  
Yes, our thermostat is programmable. You are able to program your schedule freely.
Can I control the thermostat if I am not at home?  
Yes, after successfully connecting it to the hub,then you are able to control your device on MOES App. 
Does this thermostat have a screen lock to prevent guests or kids from tampering with the settings?  
Yes, it does. It has a fully locked mode that prevents any changes or misoperation by children.
Is the battery included?
No, because of delivery limitation, the product is not equipped with battery.
Some settings have to be done on the actual valve, not through the app.
I find it quite difficult to perform settings on the actual valve. There is no tactile feedback. This problem would not exist if the valve paired itself with the hub as the first thing it did when powered up, and subsequently all settings including time could be done through the app.
Incidentally is day 1 Sunday or Monday or what, please?
Nedds a RTD adapter
If You have an old RTD valve, You will not fit it. Overall product is good.
VERY GOOD
good customer support (i needed some help in understanding the adapter rings), quick delivery to Europe, product perfectly functioning
overall very good
Programmable days
After using a week i noticed some problems with programming the days and time zones.
You can choose only 5+2 days or 6+1 day and 7 days.
It would be preferred to skip these settings and change it in 7 times 1 day with 6 timezones.
So you are very flexible to programm every day different zones.
Now i have choosen 7 days but every day is different in zone times so i have to change all actuators every day several times to get the right time zones.
Is it possible to change these settings in future??
Perfect heating control, but 1 small issue
Installed gateway is easy. After several times to connect the radiator actuator i managed how to use the buttons on the actuator.
I used in the parameter settings a hysteresis of 0,5°.
With extrernal temperature sensors i found out to put an offset of -1°
Setting temperature in time on 7 days was easy in the app.
And this works untill i noticed that it takes a lot of time before reaching the installed temperature.
The radiator actuator starts heating with 5% opening the actuator. After 5 minutes it increases the actuator to 10% , so every 5 minutes +5% after 1 hour it reaches 60% and the installed temperature finally is set to its setpoint
After that the acuator is closing the same way every 5 minutes - 5% this is to long and the room temperature will increase a few degrees more. After closing the actuator the temperature will decrease in time. Until the actual temperature reaches my installed hysteris -0.5°. And again the actuator will increase every 5 minutes + 5% after half an hour the room temperature will decrease 1 degree more so the total hysterasis is 1,5 ° . This is not comfotable . It should be better to make the actuator time adjustable in the parameters choosing 1-5 minutus .
Hope this can be done then the system is very good.
Maybe some details can be forced at starting heating
Eq in the morning by the boost function. But description what happens in several modes is unclear. Should be better be written in a manual what happens.
Best regards
Georges
5