FREQUENTLY BOUGHT TOGETHER
MOES is a brand for anyone interested in using high-quality smart home devices to enjoy a whole-house intelligent lifestyle. Our mission is to design and provide comprehensive solutions to house devices for the enjoyment of our honored customers. MOES believes that "More Smart, More Green".
Why Choose MOES?
True Need
Trusty Quality
Attentive Service
Fast&Free Shipping
Updates:
Battery Capacity :500mAh→800mAh
Movement Range:8mm→12mm
Force:9N→15N
Clicking Life:3K Clicks→15K Clicks


Main Features
New upgraded Fingerbot Plus is designed with the touch button on the device for easier ON/OFF control of the robotic arm to home traditional switches and buttons,transforming them into smart ones by simple click with the bot button pusher with its smart compatibility with Tuya Smart APP,no more complex operations to re-install a new smart device,just stick the Fingerbot Plus onto the switches or buttons to get intelligence within minutes.Define a program with combinations of arm movements and pauses,and the robot will repeat it for as long as you want.

Extremely simple pairing mode into Tuya Smart APP with your phone Bluetooth on and 2.4G WiFi connected for this Bluetooth version,no hub required for accessing multiple intelligent functions and features in App.Up and down movement optional with 0-100 adjustable to meet your own demand on concrete devices;even featured as sustain time set for added convenience.

Smartly control your traditional appliances via voice command by Alexa,Google Assistant and Siri,activating vacuum with voice, and remotely power on your office PC or house traditional appliances with switch or button design with no effort with Bluetooth hub required. Enjoy an effortless smart  lifestyle with this smart Fingerbot Plus;Timer your own schedule for specific devices to turn on/off at a preset time in App;device share to your family members and group control are both available in App with a simple tap.

Fingerbot Plus is compatible with various buttons and switches. It can simply stick to any surface and retrofit your old appliance.If you have installed it in the opposite direction,no more worry about this,there the invert switch option is available in the App to adjust its position anywhere you are,ensuring your life with time saving and energy saving for real-time battery level monitoring.You can use it for your lights, fans, coffee makers, garage door, and more. With the add-on, a rocker switch could be flipped at both directions, push or pull for ON/OFF by only one Fingerbot Plus.

Its modular design allows users to replace its arm with various tool pack options for extending its capability in various cases. All you need is to tape it right next to a rocker switch or button with a stripe of the sticker. No swapping, no tools are required. The provided 3M sticker allows you to install wherever you like;A hassle-free safe DIY journey you'll experience from now on;only supports 2.4G network;includes full 2-year warranty and 60-day refund guarantee for complete satisfaction.

Note:

Bluetooth gateway is required for wireless remote control and voice control by voice assistants.
The robotic arm can be used alone, but it can only be controlled properlywithin the Bluetooth-compatible connection range (about 10 meters).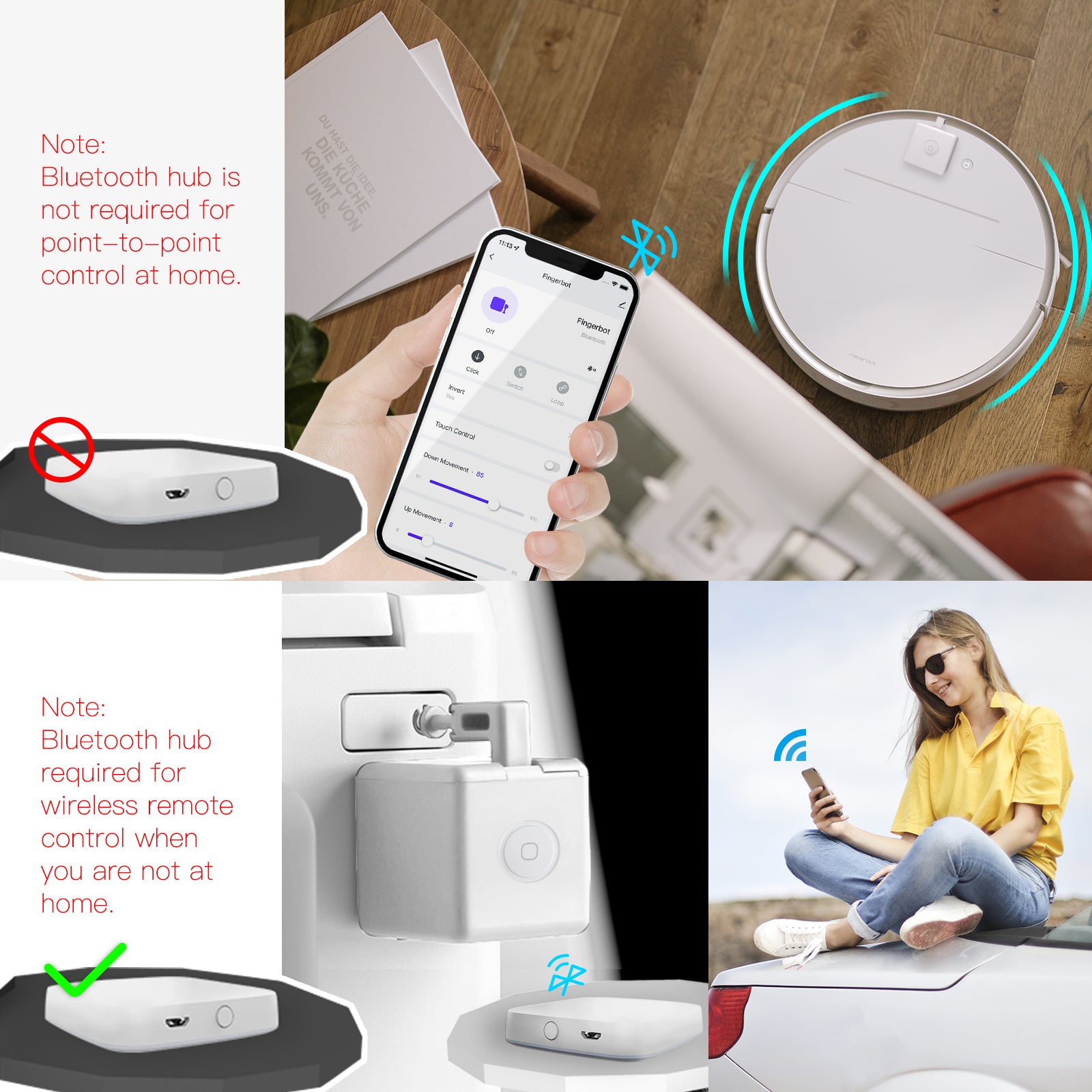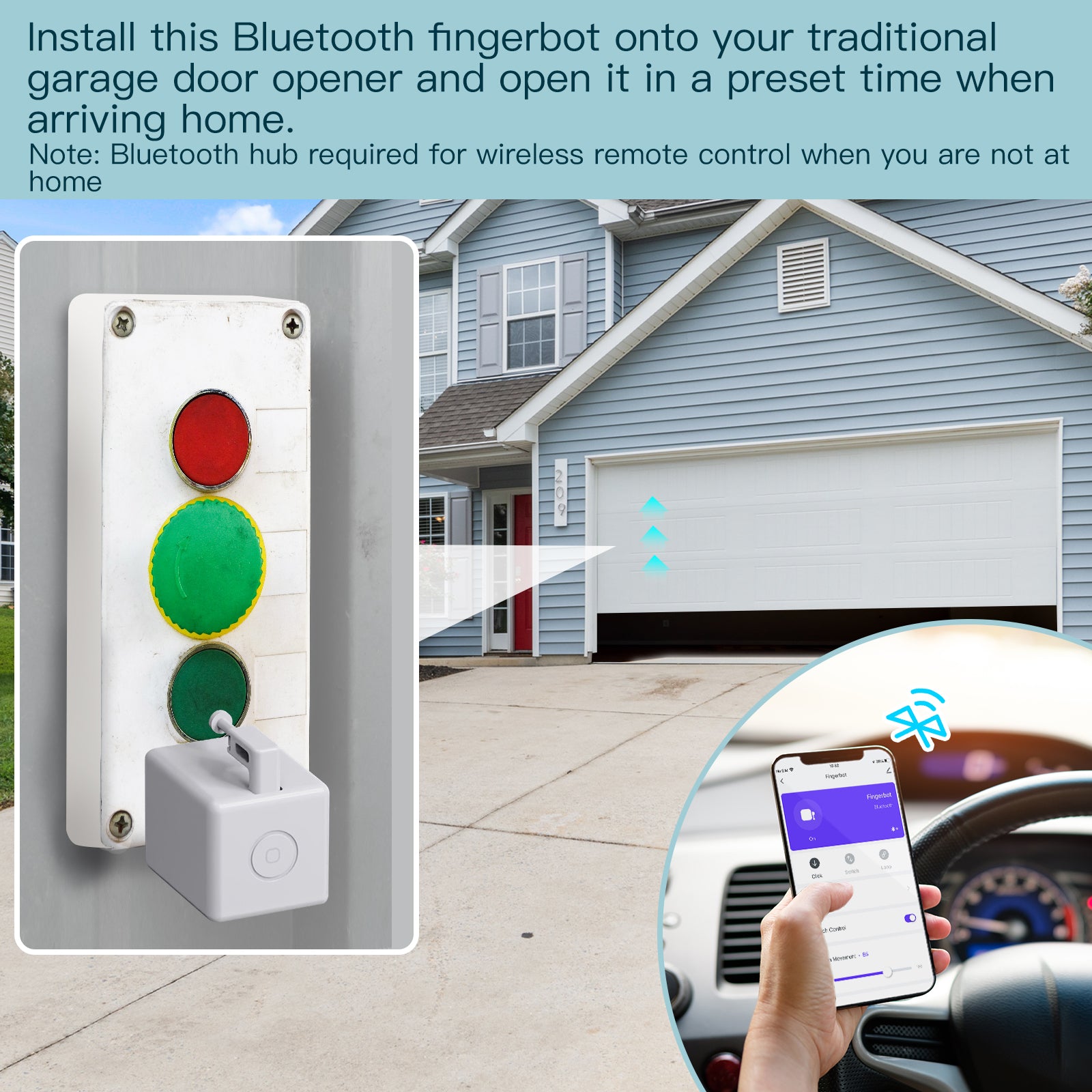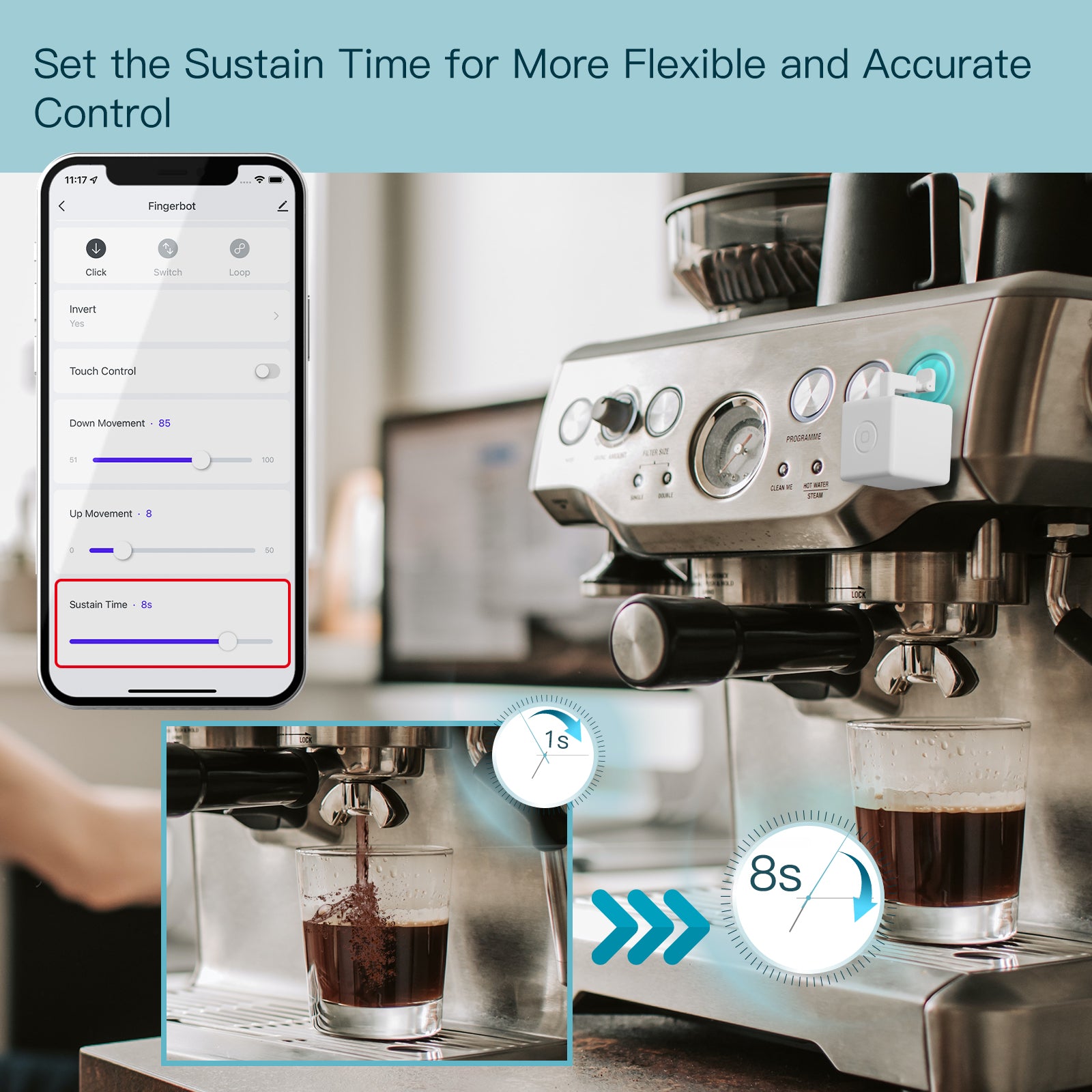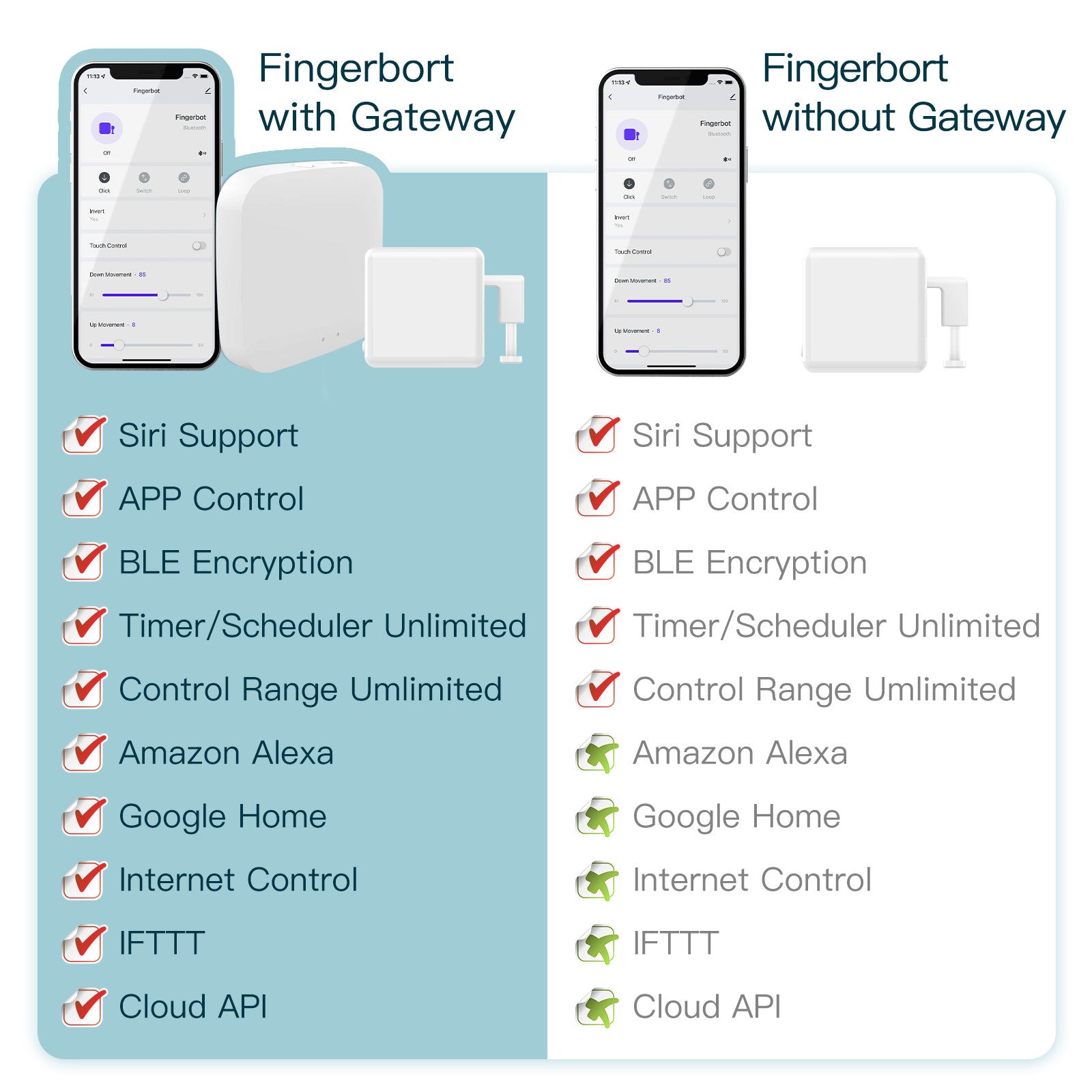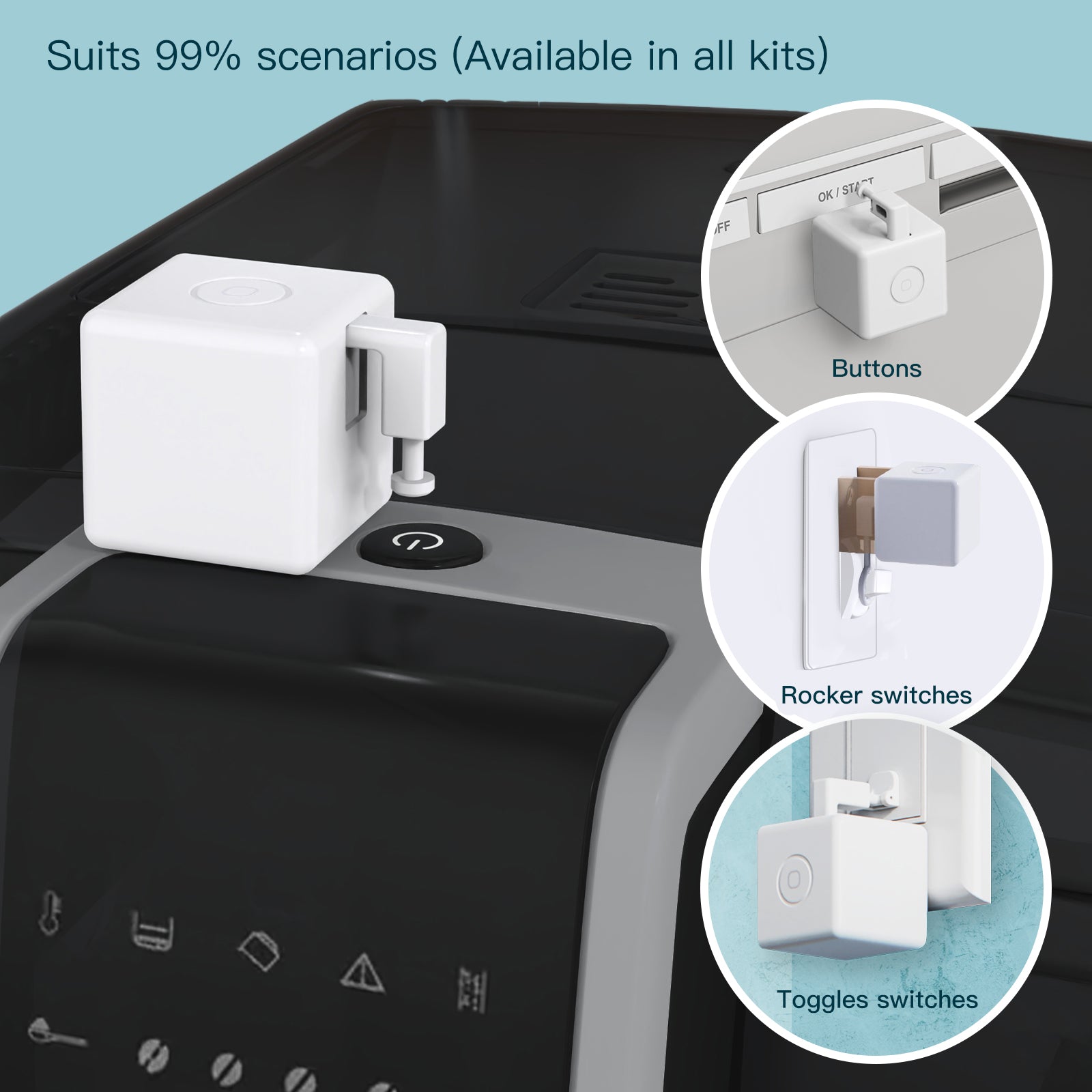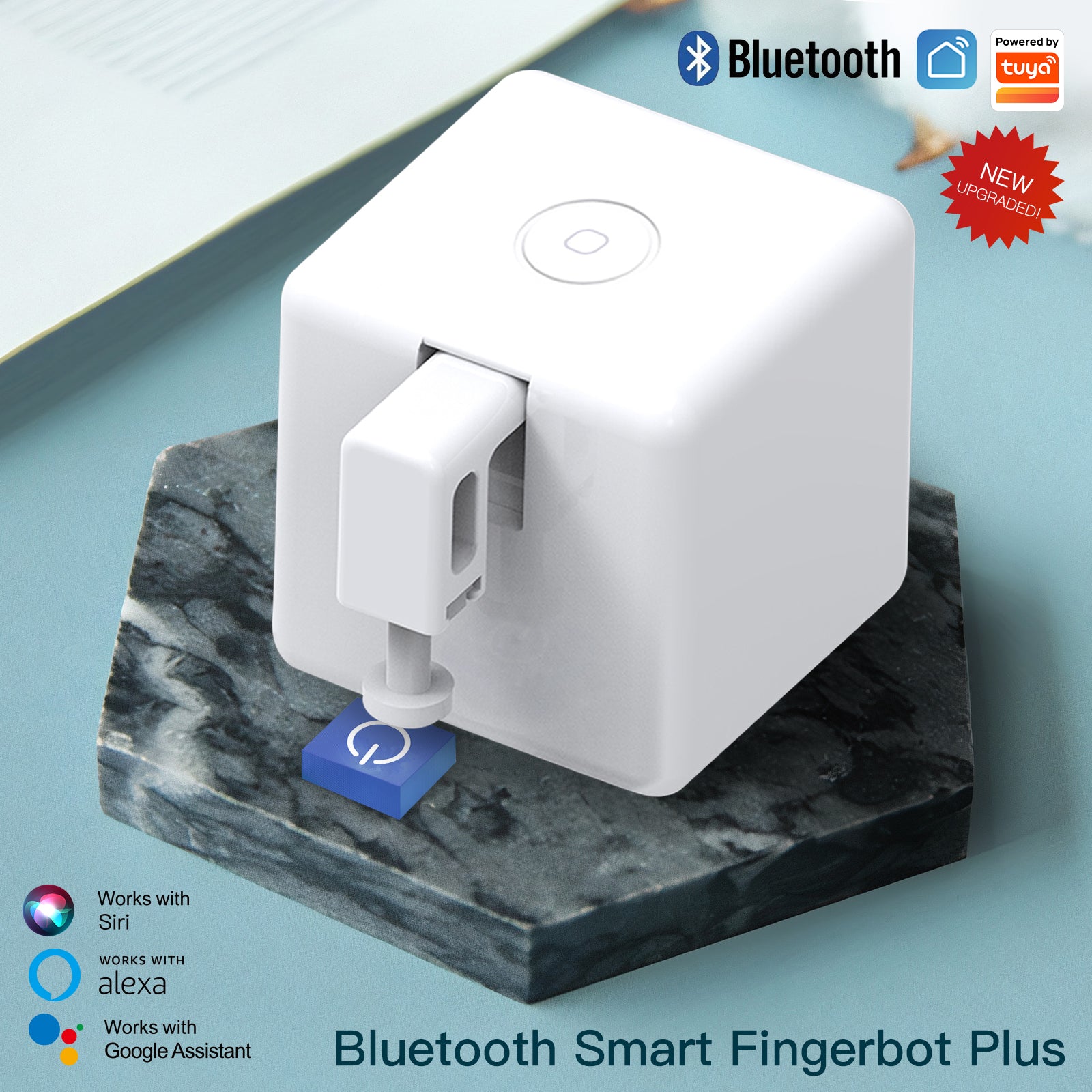 Specifications:
Dimensions:34.5*34.5*34.5mm

Weight:38g

Wireless protocol:Bluetooth Low Power 4.2


Battery type:CR2

Stall torque:2.0 kgf·cm

Maximum arm movement:12 mm

Working temperature:-10℃ ~ 45℃
Package Listing
Fingerbot Plus*1

 

3M sticker*1

 

User manual*1
We ship worldwide and most countries support free shipping.
(Other countries need to pay extra shipping cost.)
The time frame for order delivery is divided into two parts;
Processing time:Order Verification,quality check and packaging.All orders are sent to the manufacturers for dispatch within 24 hours after the order is placed.The manufacturer and China Post process the orders,which takes an additional 2-4 days.
Shipping time:This refers to the time it takes for items to be shipped from our warehouse to the destination.US orders are shipped by e-Packet,which usually take between 7 and 21 business days to arrive at their destination,and sometimes it will take longer.Besides,DHL,FeDex etc are also available.
Once you have alerted us you wish to make a return through an email contact.We will email a link to start the easy return process.
We can accept Paypal and Credit card.
Tuya Smart Bluetooth Fingerbot Switch
I wanted to have the button on our water recirculating hot water system that doesn't have a timer function.
.
The fingerbot installed easily to my Wired Multi-Mode Smart Home Gateway ZigBee WiFi Bluetooth Mesh Hub. I made a mistake using my home wifi 5Ghz band with my phone instead of the 2.4Ghz. The automation scenes didn't work when I used the wrong wifi band. Once I removed the fingerbot from the hub and reinstalled the fingerbot using the 2.4Ghz wifi band the automation scenes work just.
Other than my user error in not using 2.4Ghz wifi band, the product was easy to install and worked well.