FREQUENTLY BOUGHT TOGETHER
MOES is a brand for anyone interested in using high-quality smart home devices to enjoy a whole-house intelligent lifestyle. Our mission is to design and provide comprehensive solutions to house devices for the enjoyment of our honored customers. MOES believes that "More Smart, More Green".
Why Choose MOES?
True Need
Trusty Quality
Attentive Service
Fast&Free Shipping
Main Features
Sub-device control as multi-mode compatible:Control sub-devices of the gateway, supporting remote control and group control for connected Bluetooth and ZigBee smart devices in Smart Life App as multi-protocol communication for ZigBee3.0 standard protocol and Bluetooth SIG standard protocol based,ensuring stable control of 128 devices as strong performancewith Tuya Security SaaS platform integrated .
Scenario and automation for house security: Performing as an audible and visual alarm system with light and sound notification from the hub,together with away and stay mode optional via the automation with smart security sensor like door sensor,human presence sensor and home security camera for whole house intelligence,featured as one powerful network bridge for home securityin a real sense by all-in-one device.
Remote control available:Remotely control the devices that are connected to the gateway through the mobile phone via Tuya Smart App no matter where you are,no need to separately control your Bluetooth and ZigBee devices in two different interfaces,simply control them within one multi-mode gateway hub with reliable local linkage and group control services supported.
Smart multi-function with easy operations:Locally executing scenario and automation is preferred, which enables smart scenarios and automation to be executed in case of no network access;Add sub-devices without network access and multiple sub-devices accessing the network at the same time;besides,it performs well as a timely alarm with three options as ask for help,urgent and fire alarm.
Support security functionwith simple network access: Simple network access updated as when you have paired the device into Tuya Smart APP via 2.4G WiFi and phone Bluetooth,you can Plug the network cable anywhere you like beside onto the WiFi router for stable network signal or you can use it for wireless control directly without the network cable;includes full 2-year warranty and 60-day refund guarantee for complete satisfaction.
Introduction:
The  new multi-mode gateway supports Wi-Fi+Bluetooth+ZigBee multi-protocol communication. The connected ZigBee and Bluetooth mesh (SIG) devices can be viewed and remotely controlled by the app. Moreover, the new version is functional for home security protection with away and stay alarm,together with smart security sensor like door sensor,human presence sensor and home security camera for smart linkage.Despite of the functions of adding and resetting device, third-party control, and sub-device group control can be implemented by users. Those features can meet requirements for diversified smart home scenarios.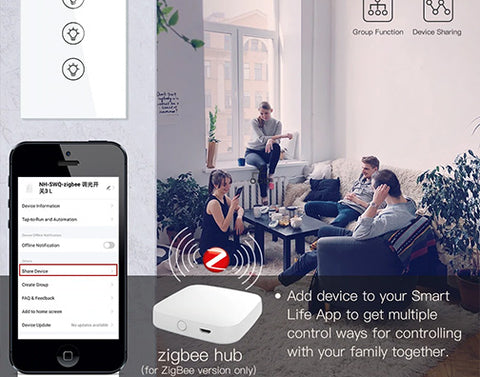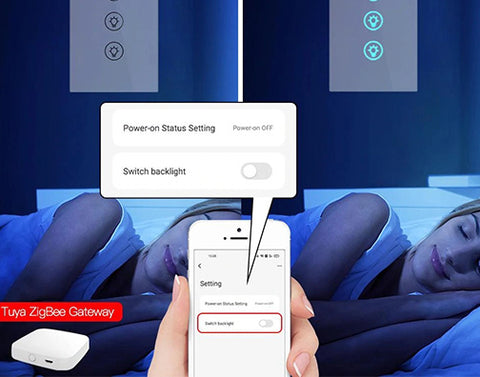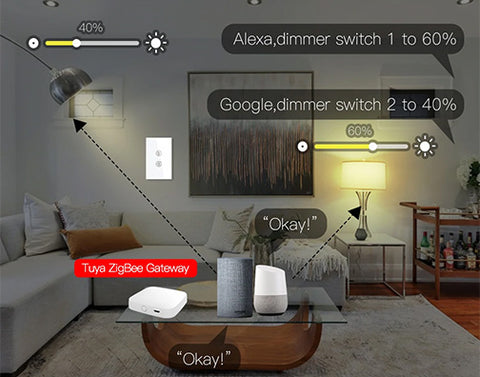 Q&A:
1.Q:Does it support to add WiFi smart devices under the gateway?
A:No,this is a hub for adding ZigBee and Bluetooth sub-devices.
2.Q:Can I control the devices in the hub via Alexa or Google Home?
A:Yes,as long as the devices are with voice control supported.
3.Q:Can I disarm the alarm mode manually?
A:Yes,there is the disarm option in APP to execute the order to your own need.
4.Q:Can I delay the setting for stay and away mode to avoid unnecessary alarm?
A:Yes,there is the delay function for the two modes with 0s-180s available.
5.Q:Can I Plug the network cable to the wall cable box?
A:You can pair the hub under 2.4G WiFi and phone Bluetooth first for accessing the wall cable box for signal,or you can only access via WiFi router.
Specifications
Product name:Wired Smart Gateway
Electrical Parameters:5V 1A
Operating temperature:-10℃-45℃
Operating humidity:5%-90% RH(no condensation)
Wired Protocol:Wi-Fi 2.4GHz & ZigBee & BLE & Mesh
Product Size:95*95*22 mm
Package Content
Wired Smart Gateway
Instruction manual x 1
Power cable x 1
Adapter x 1(optional)
Network cable x 1
We ship worldwide and most countries support free shipping.
(Other countries need to pay extra shipping cost.)
The time frame for order delivery is divided into two parts;
Processing time:Order Verification,quality check and packaging.All orders are sent to the manufacturers for dispatch within 24 hours after the order is placed.The manufacturer and China Post process the orders,which takes an additional 2-4 days.
Shipping time:This refers to the time it takes for items to be shipped from our warehouse to the destination.US orders are shipped by e-Packet,which usually take between 7 and 21 business days to arrive at their destination,and sometimes it will take longer.Besides,DHL,FeDex etc are also available.
Once you have alerted us you wish to make a return through an email contact.We will email a link to start the easy return process.
We can accept Paypal and Credit card.