Sale price
$84.99
Regular price
Unit price
per
Save Liquid error (snippets/price line 89): Computation results in '-Infinity'%
Sold out
Features

【3 in 1 Multifunctional Carbon Dioxide Meter】It can detect real-time CO2 concentration, together with clear display on indoor&outdoor humidity and temperature for extremely comfortable and safe life experience. CO2 detection range is featured from 400 to 5000PPM, temperature detection range from 0 to 50℃ and 0-99%RH for humidity detection range, fits well for agricultural planting, production warehouse, raw material processing, home, school, office, and other occasions.
【CO2 ConcentrationStage & Sound Alarm】 This CO2 detector is functional with 3 stages of CO2 concentration—normal stage (400-700 ppm), warning stage (700-1500 ppm), and dangerous stage (1500-5000 ppm) and will alarm when the detected CO2 concentration is beyond the safe value you customized to monitor house security for you timely.Besides,this air tester is designed with calibration function for more accurate monitor.
【Compatible with Tuya Smart/MOES APP】Intelligently monitor your house air condition for CO2 concentration, temperature and humidity value on smart phone via Tuya Smart APP when you are not at home,no more worry about sudden accidents. And you can transfer the Temp. valve between ℃ and ℉ easily in APP or directly via the button on the detector.
【Smart Scene Linkage for Home Automation】Add smart scenes in Smart Life APP for automating other smart home devices with the CO2 detector under CO2 concentration, temperature and humidity value, such as automatically open your window when the detected CO2 concentration is beyond the safe value, or turn on the AC when the temperature is too high.
【Full-Color Large Screen&Large Capacity Rechargeable Battery】 Full-color display and large screen designensures its super easy readings with LED digital display for eye protection; built-in large capacity rechargeable battery whose standby up to 40hours, together with Type-C charged.
Specification

Carbon Dioxide Range: 400 ~ 5000 ppm [±(50ppm + 5%)]
Temperature Range: -10°C ~ 40°C (±2℃) / 14℉ ~ 104℉ (±3.6℉)
Humidity Range: 20 ~ 80 % RH (±5 % RH)
Product Size:98 × 90 × 40 mm
Power Supply:Built-in Lithium Battery (2400mAh)
Wireless Connection: Wi-Fi (only for 2.4GHz Wi-Fi network)
Input:5 V⎓1 A

Package Listing

CO2 Detector × 1
TYPE-C Charging Cable × 1
User Manual * 1
View full details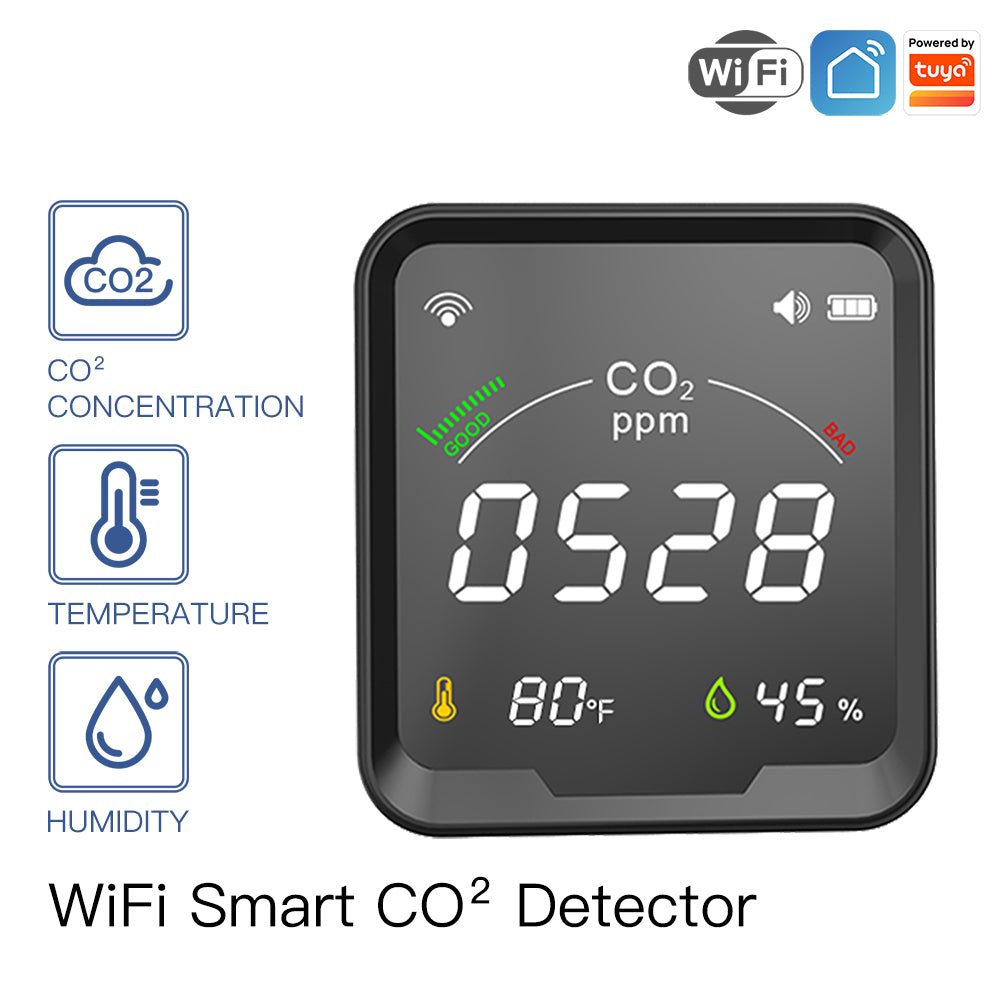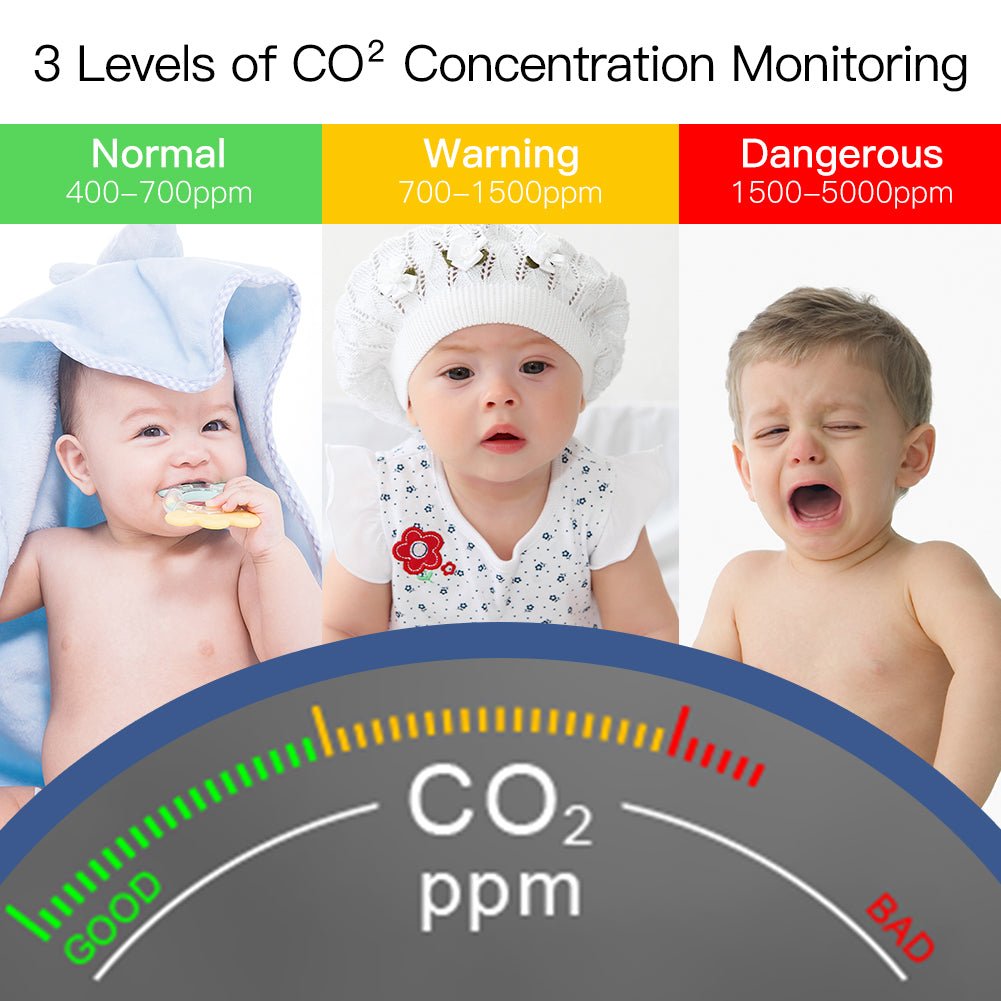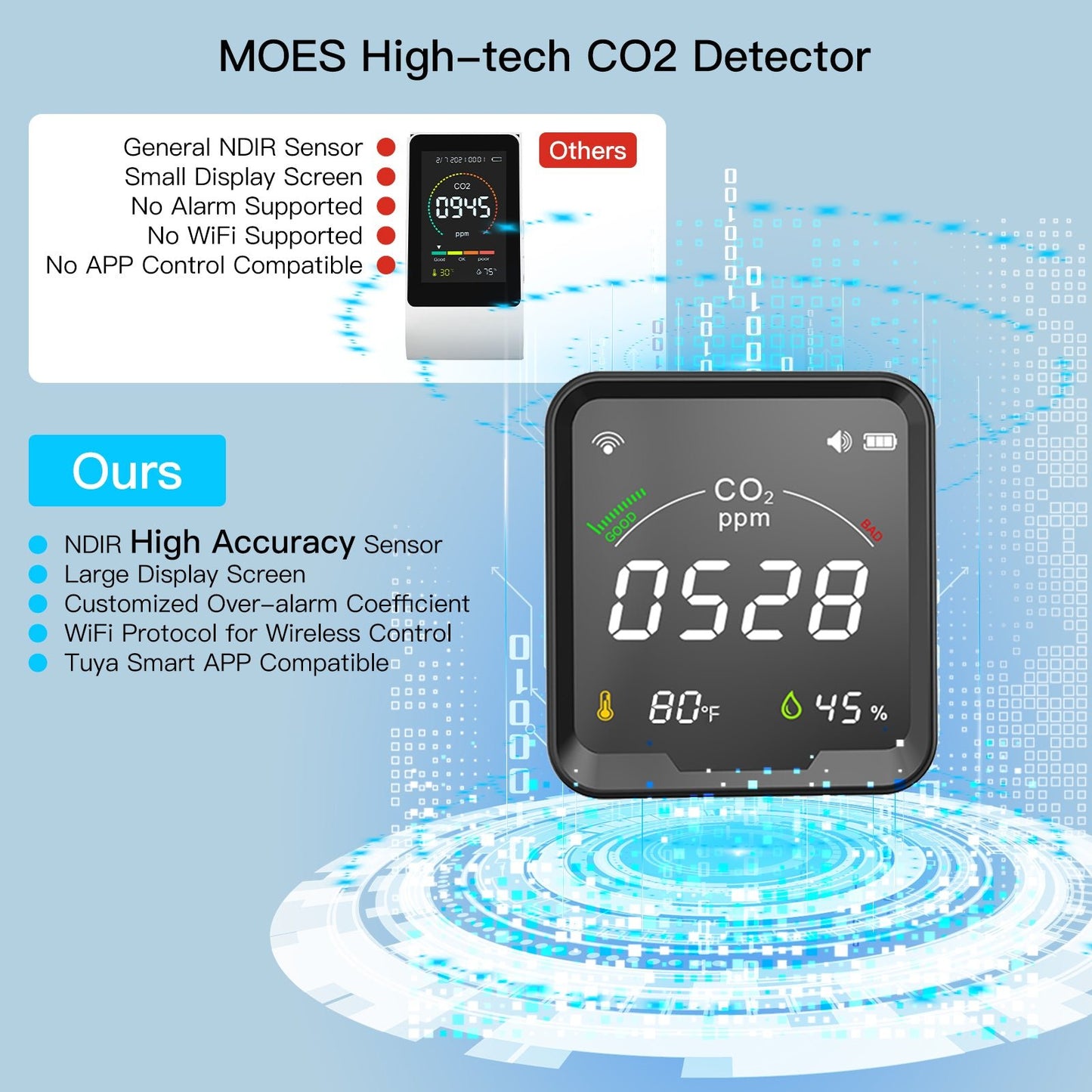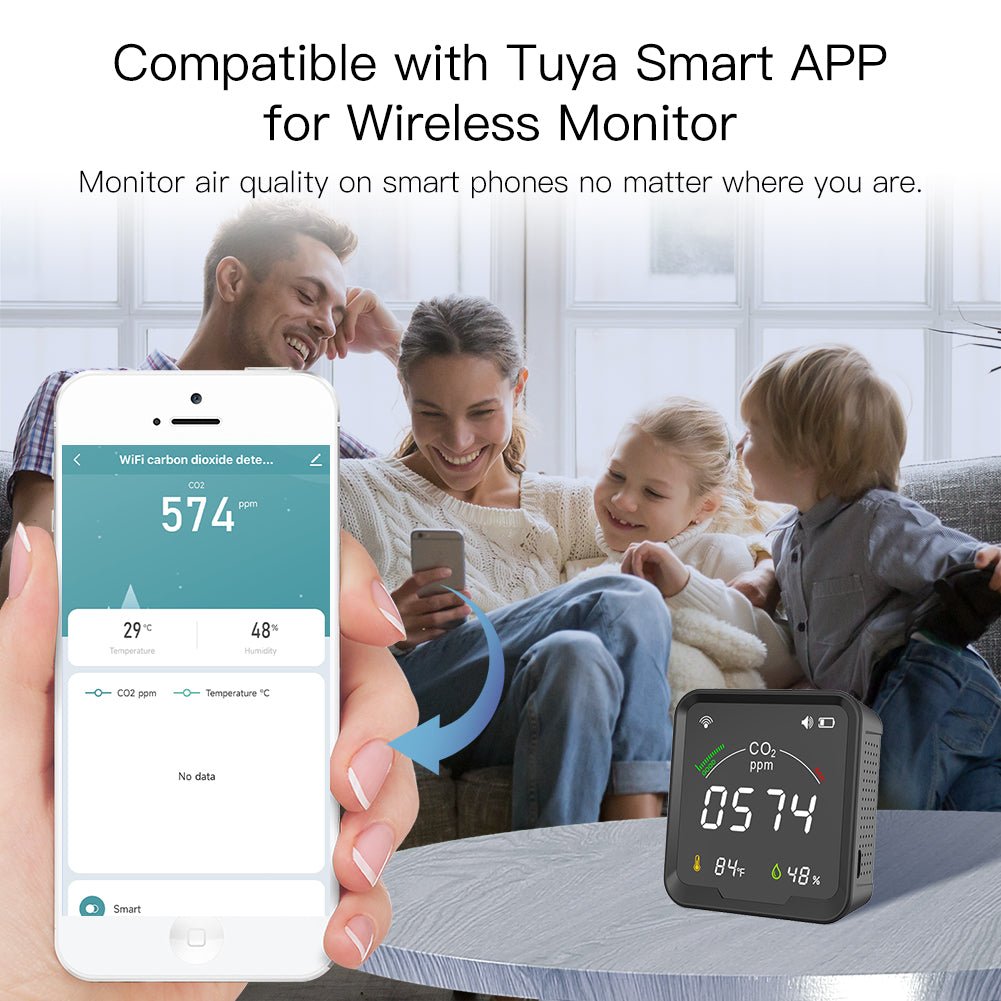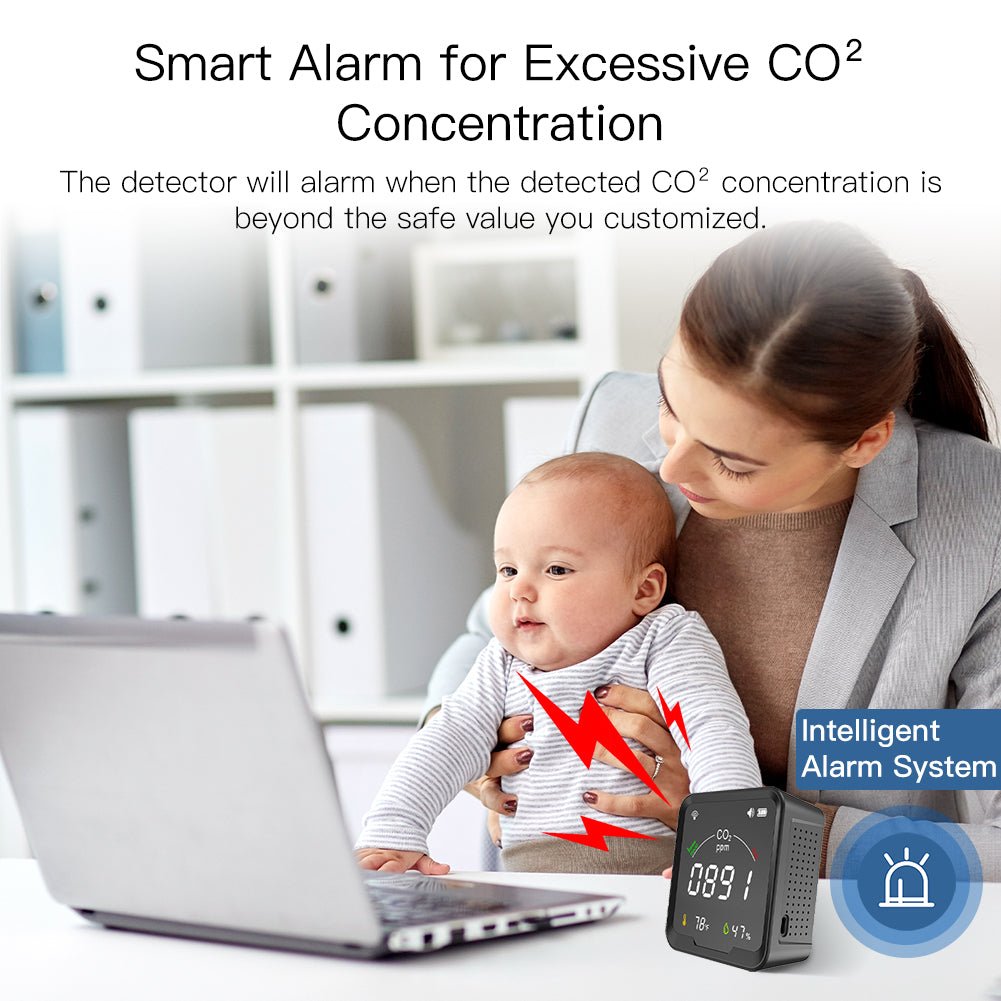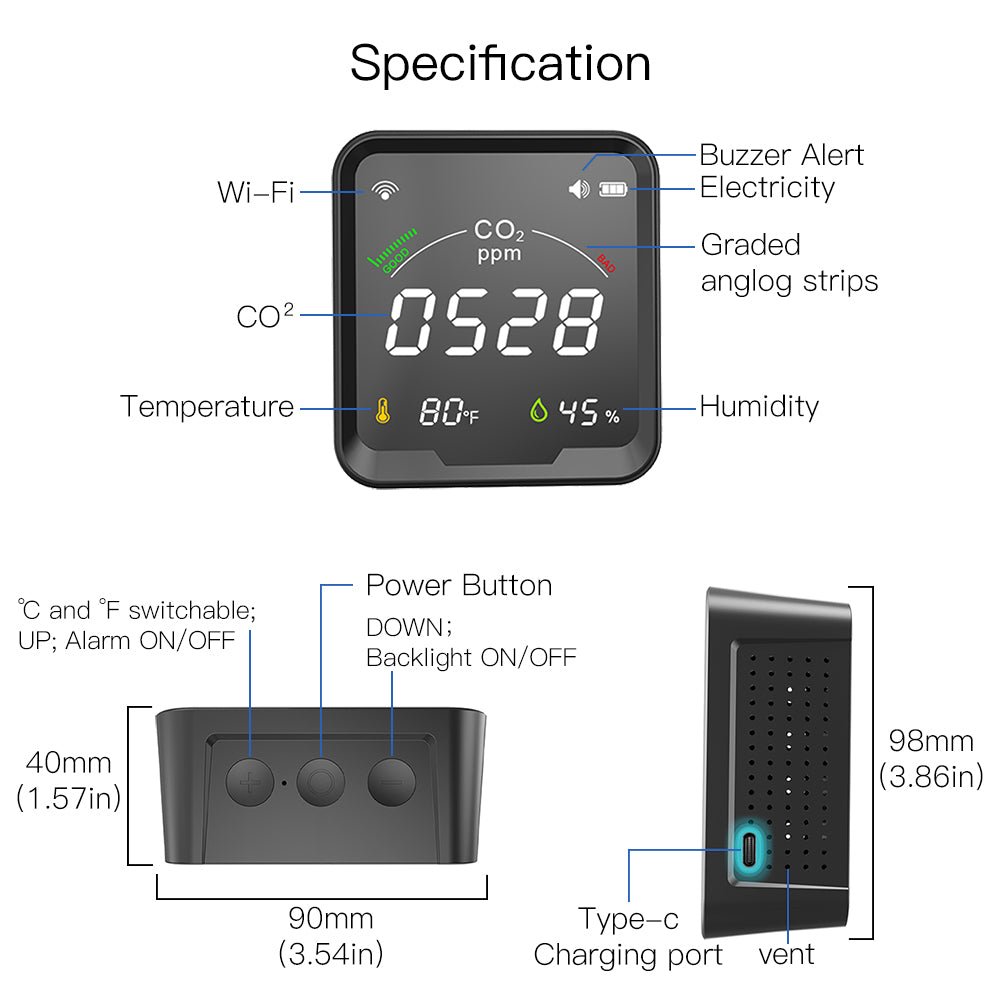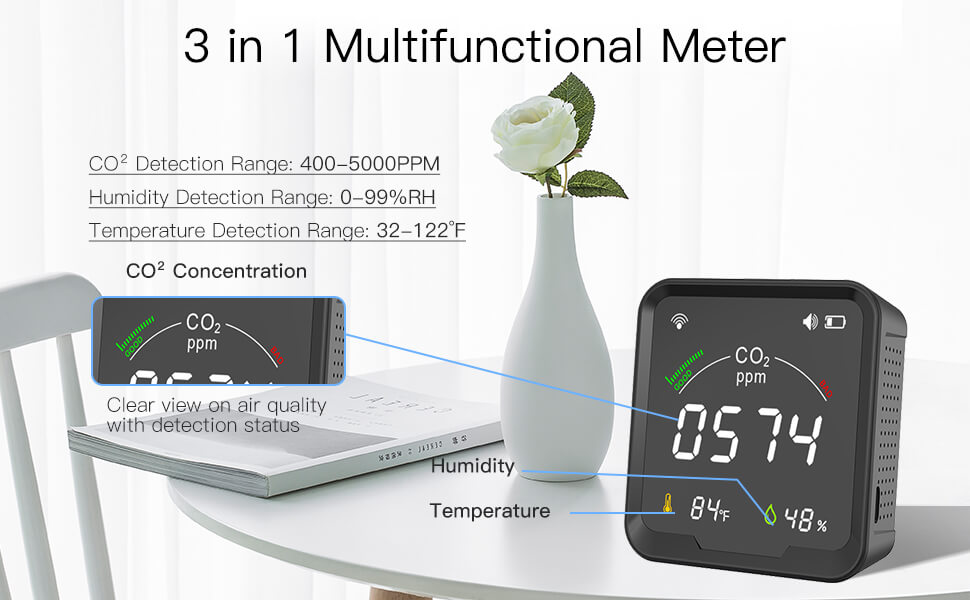 Two Placement Methods

Unlock more features with Smart Sensor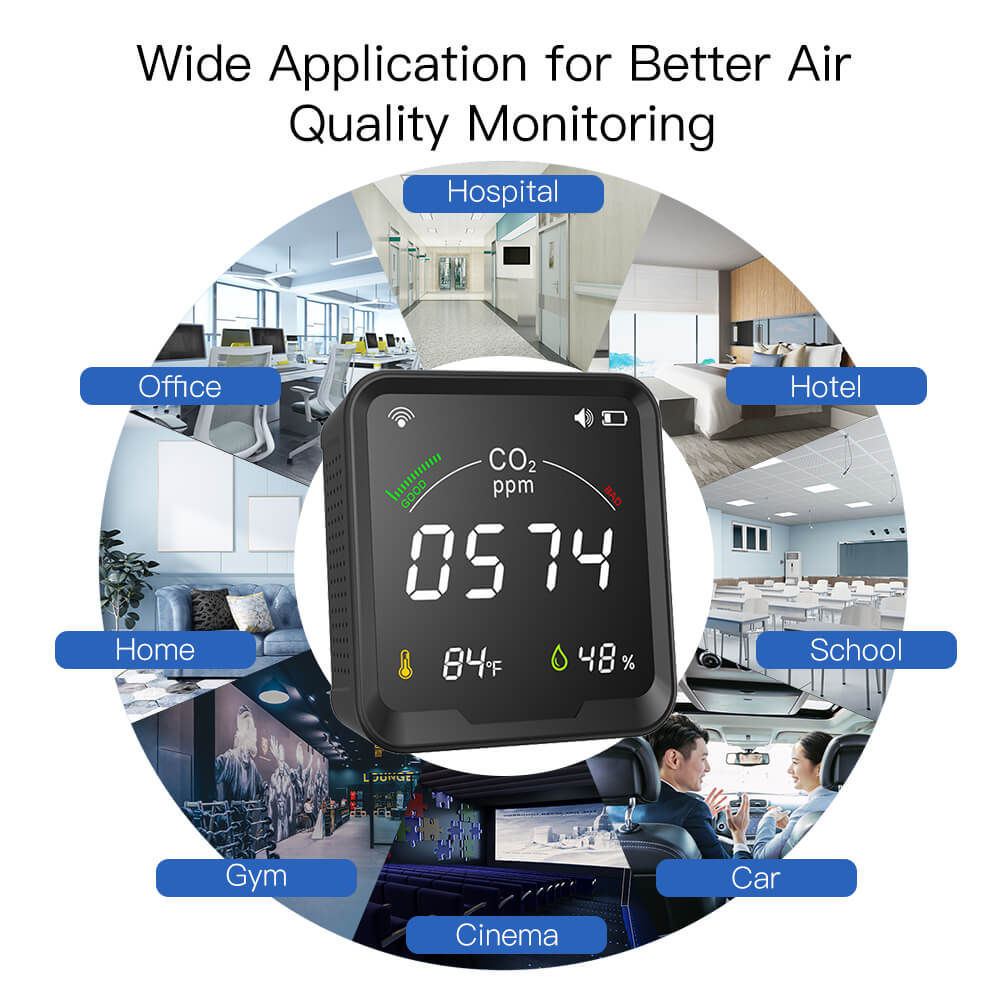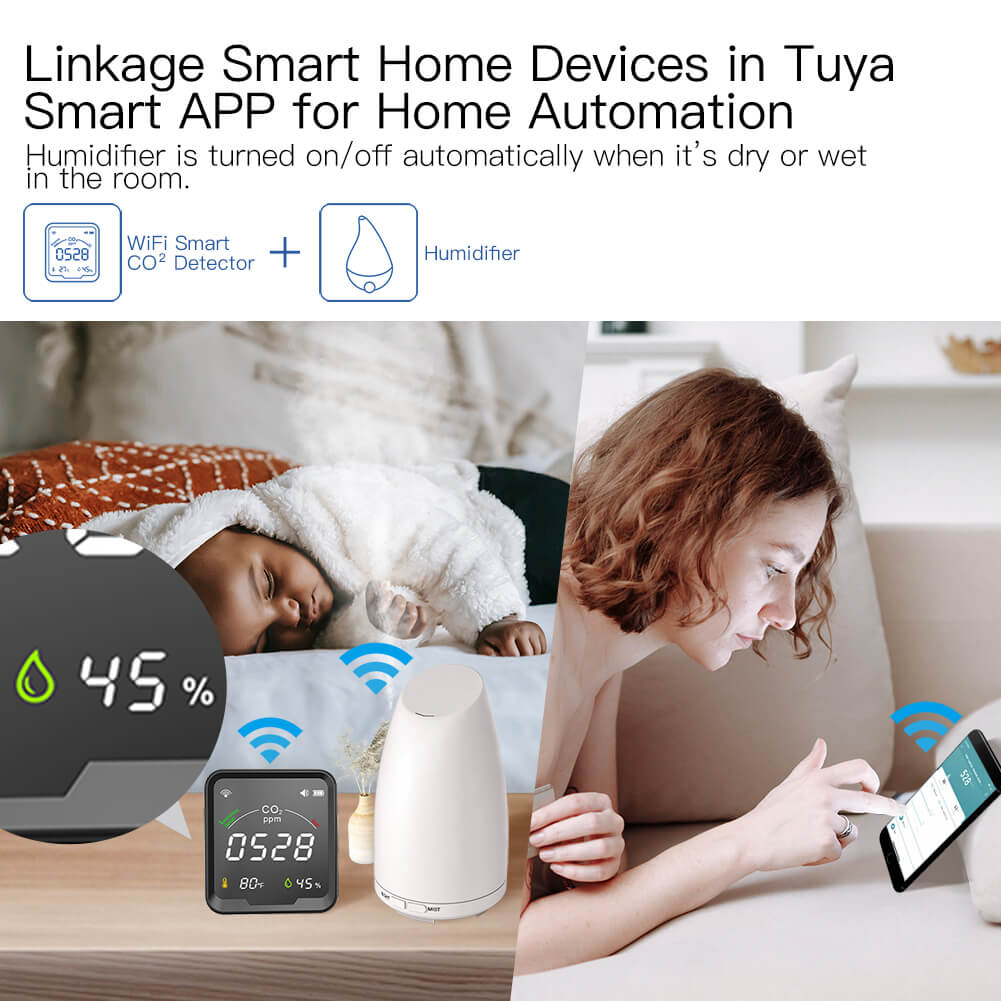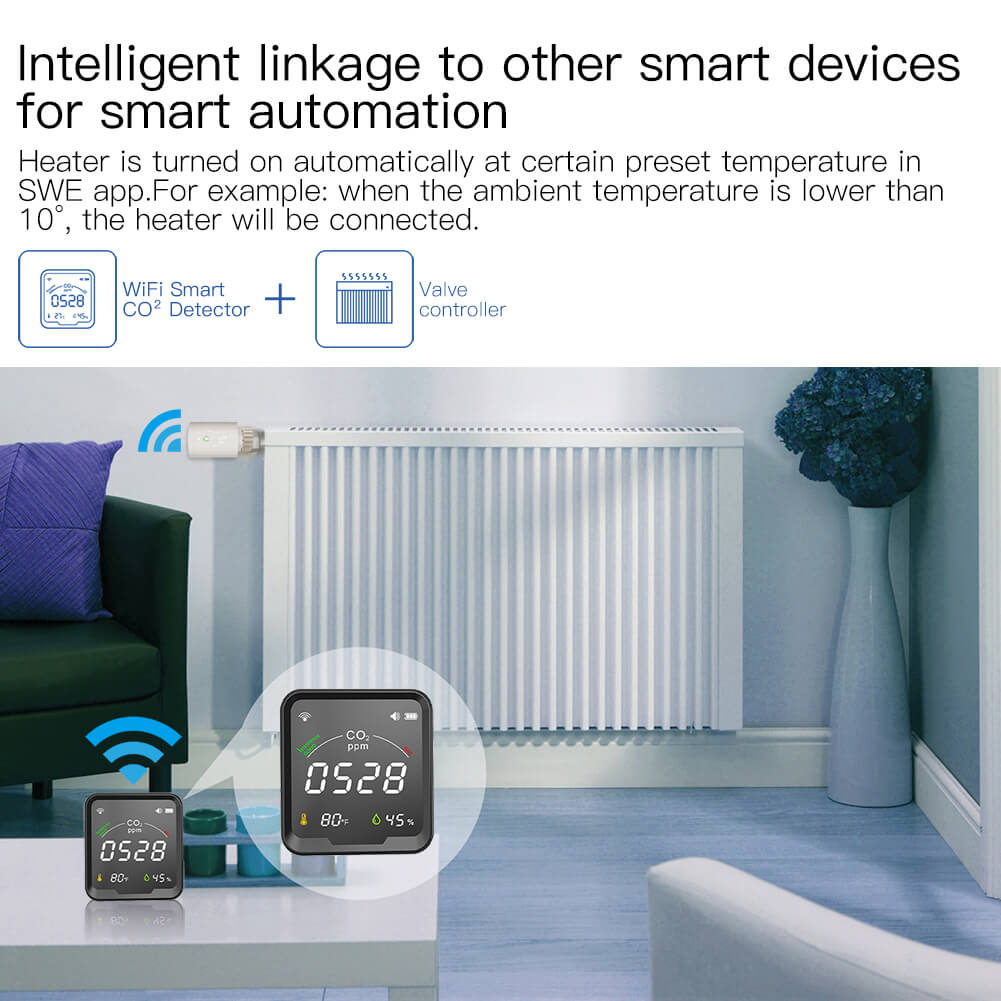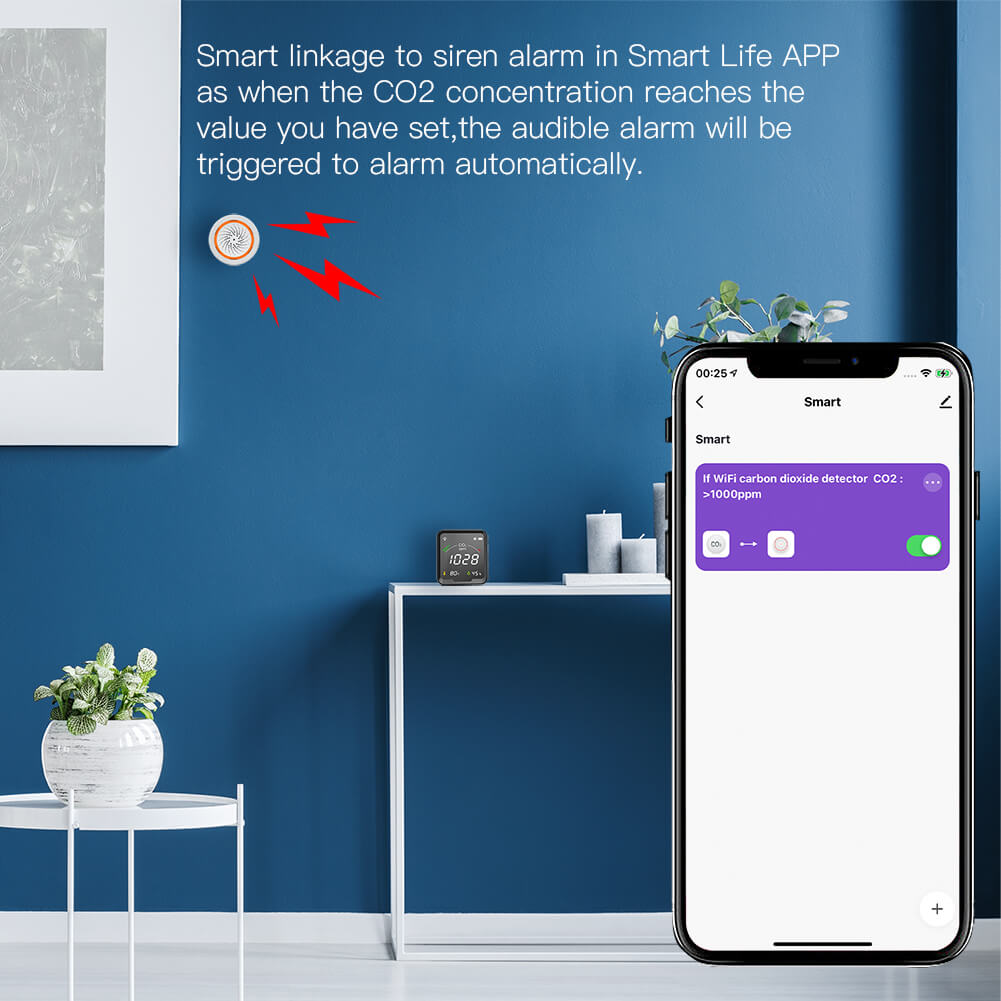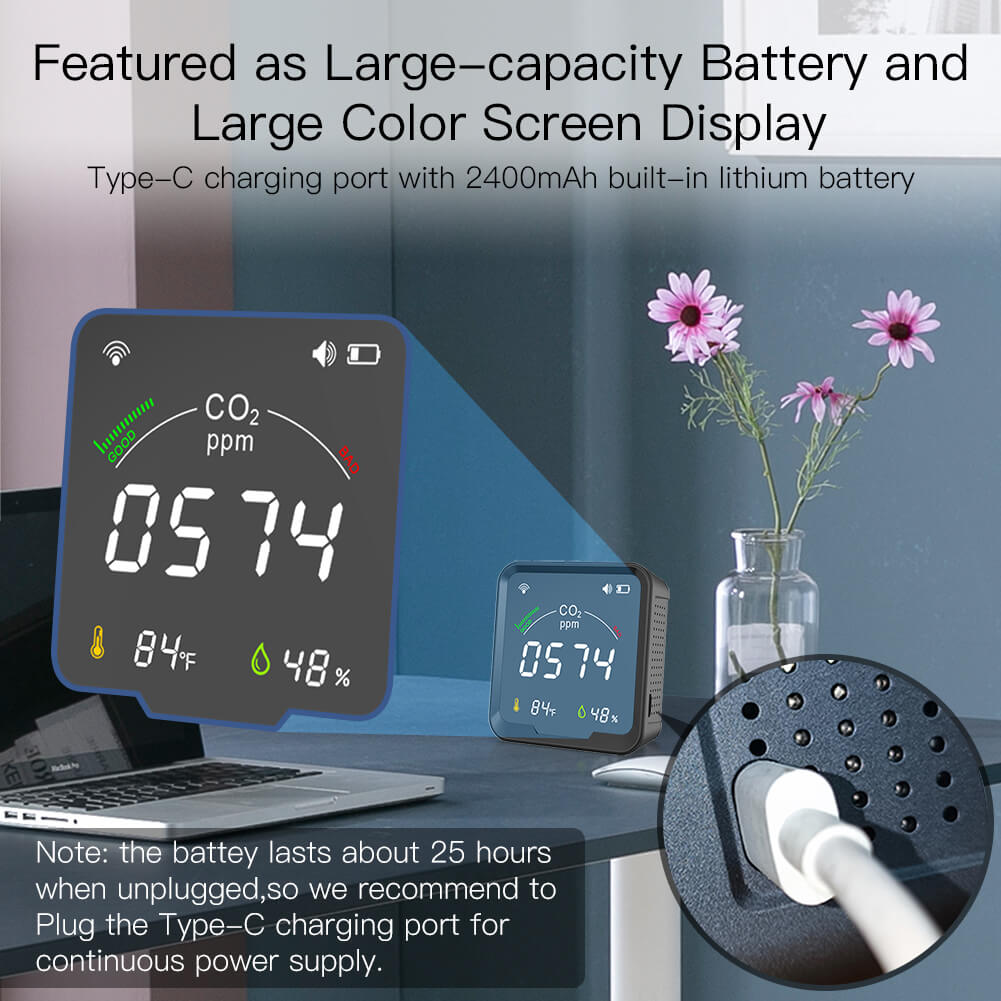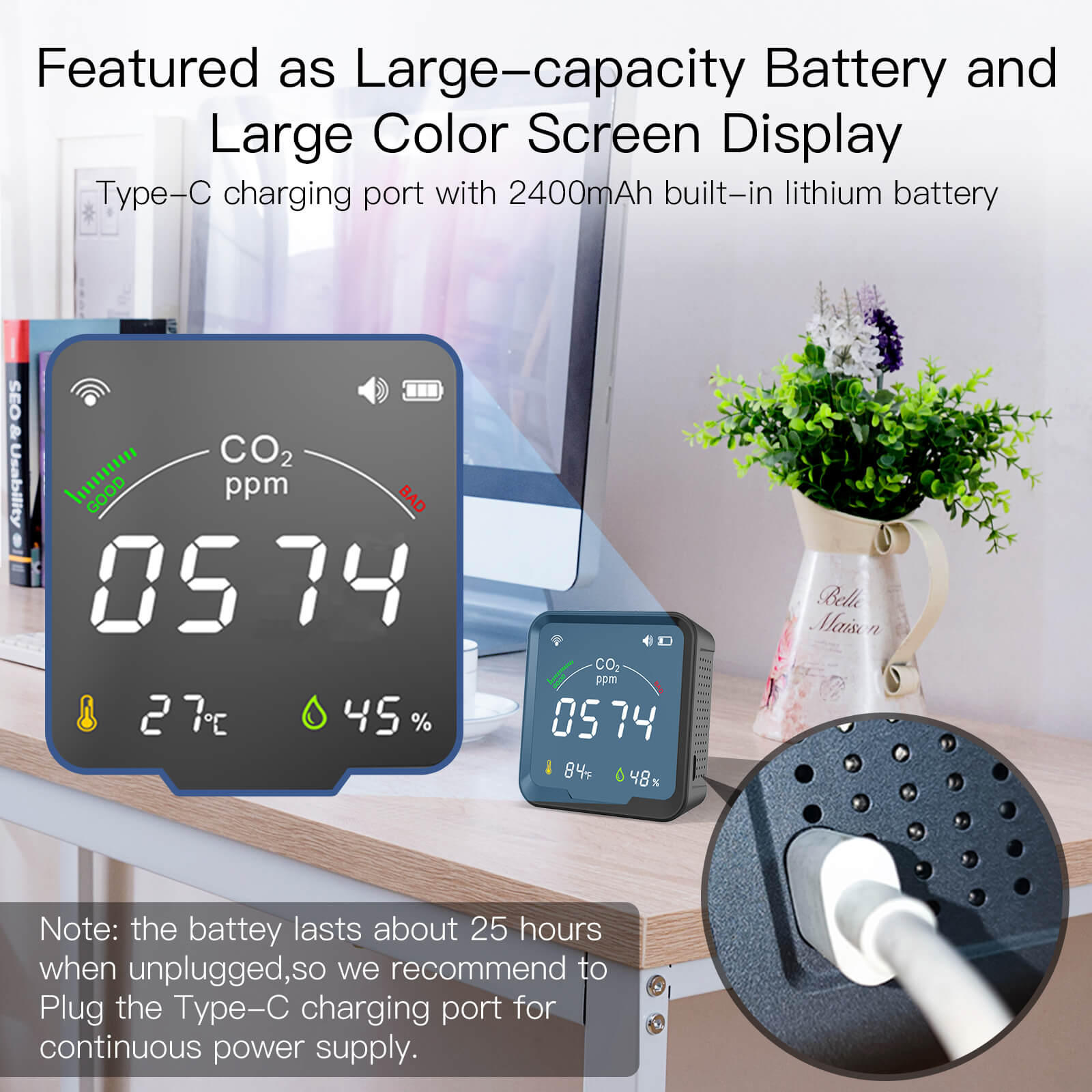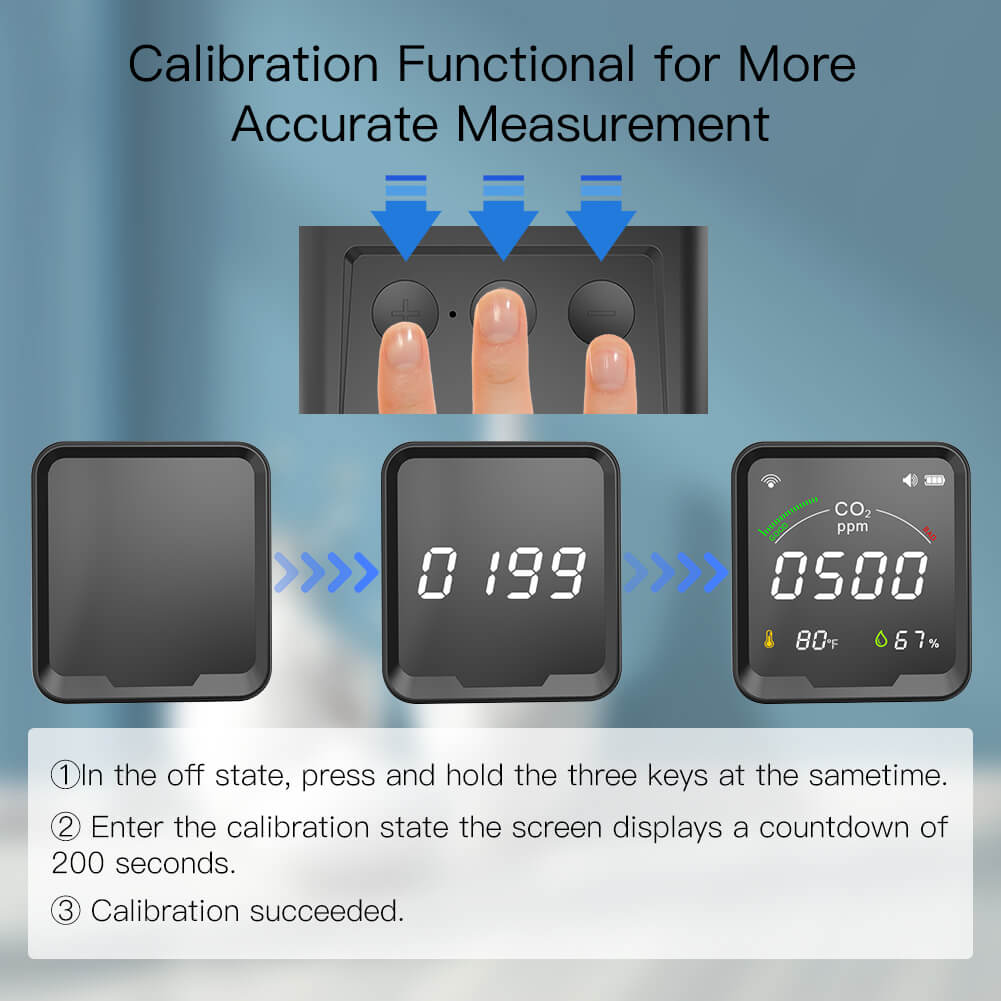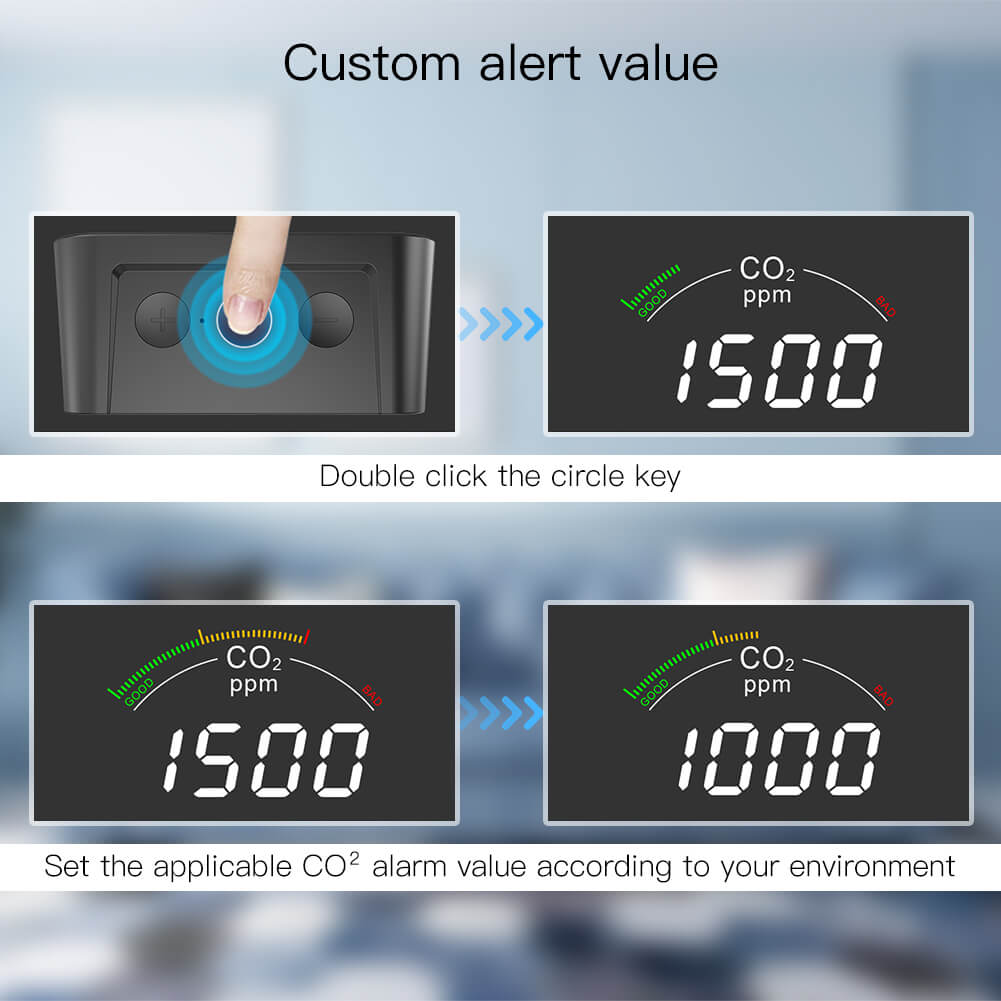 FAQ
How long does the battery last without being connected to the charger? Hours? Days?
After full charge,it can easily last a full work day of over 6 hours.if not use it, standby up to 40hours.
Is this suitable for detecting CO2 in house and does it have an alarm as well?
Yes, you can watch the CO2 level go up when you are working in the room, and it has alarm function.
Can I monitor the CO2 concentration in APP when I am not at home?
Yes,it is compatible with MOES/ Tuya Smart APP for remote control on your smart phones.
Can I smart the detector with my house other devices for smart automation?
Yes, you can add smart scenes by the detector for automation with other smart devices,such as humidifier and AC.
Is it possible to disable the high co2 ppm alarm? I need it to control co2 levels on a mushroom grow tub, so co2 levels will be high.
There is a speaker logo on the upper right of the screen. When you long-press the "+" button, the speaker logo will disappear, so the buzzer will be turned off; when the speaker logo appears, the buzzer will be on.
Ich mag Moes Produkte
Ich gebe 5 Sterne.
Da ich mit allen meinen Moes Produkten sehr zufrieden bin habe ich mir jetzt das Co2 Messgeräte gekauft.
Wie immer hochwertige Materialien, sieht sehr schön aus und vor allem erfüllt voll und ganz meinen Erwartungen! Einer der Gründe warum ich mich für moes Co2 entschieden Haber war die Anbindung an tuya/WLAN, hätte mich aber auch auf zigbee gefreut da zigbee noch besser im Smarthome Bereich passt. Aber nichtsdestotrotz es arbeitet in Echtzeit also immer aktuell kein verzögern und am Handy bzw Home Assistant sofort mit Co2-Werten auch wenn das Display am Messgeräte abgeschaltet ist. Ich würde das Gerät jedem empfehlen da man Co2 nicht riechen und schmecken kann und jeder geschlossene Raum in dem sich Menschen und Tiere aufhalten füllt sich unweigerlich in kurzer Zeit mit mit dem Gas Kohlenstoffdioxid. Also gerade in den kalten Jahreszeit viel lüften, die Überprüfung übernimmt jetzt das moes Co2 Messgeräte und schaltet bei Bedarf automatisch, dank tuya App, die Belüftung ein.
1