FREQUENTLY BOUGHT TOGETHER

 Upgrade Features:
1.Every ZigBee device with heavy current can act as a communication relay for another heavy current ZigBee device like socket,switch,thermostat and so on with the range of 20 -30m,performing as a ZigBee Mesh(ZIGMESH) for highly stable signal network.(Note:This feature is not for light current ZigBee device and also not ZIGMESH functions featured.
2.ZigBee2MQTT setup available for this zigbee device.
Main Features:
1.Smart Tuya ZigBee Thermostat:Functional heating system with ZigBee protocol built in for intelligent control of water floor,electric heating and water/gas boiler heating system,providing maximum and comprehensive convenience to your smart life for house temperature,(Note:current load is 5A)focusing on making simple,human,delightful feelings for your home,and this kind of color is suitable for various decoration styles,even with temperature correction and child lock supported.
2.A Tuya ZigBee Wireless Gateway Hub is a Must to work with: A ZigBee wireless hub is a must that connects to the thermostat ,as well as a variety of ZigBee smart products, which is proved to be the bridge and control center for smart homes and plays an irreplaceable role for all ZigBee products and realizes the whole linkage of your house,proved to be a really good substitution for unstable WiFi network.Simply add the thermostat into the ZigBee hub after adding the hub into Smart Life/Tuya App.
3.Programmable Schedule with Weekly Programming Selection:Supports manual set up 5+1+1 weekly schedule with 4 periods for option,providing you with the maximum convenience for different situation and setting customized schedule for your house temperature in Smart Life and Tuya App.
4.Voice and Remote Control for the Tuya ZigBee Wireless Gateway Connected:Supports App remote control via your smart phone,together with the hands-free voice control via Alexa and Google Assistant after successfully connecting your thermostat to "Smart Life "App on the basis of one Tuya ZigBee Wireless Gateway.
5.Sensor selection with IN/AL/OU available;set high limit temperature ceiling with 45-70℃ and the lower limit of temperature with 1-5 ℃ adjustable in App to get more convenience for the device;device share to your family or friends for added convenience.Full 2 Years Warranty,for All Smart Thermostat,60 Days Refund Guarantee,Your complete satisfaction is the goal for all our customers.
Parameter:
Power Supply: 95 ~ 240 VAC, 50 ~ 60HZ
Current Load:3A(water heating/water boiler/gas boiler)
                     16A(electric heating)
Sensor: NTC
Accuracy: ±0.5℃ or ±1℉
Set Temp. Range: 5 -35
Dispaly Temp. Range: 5 ~ 99
Ambient Temp.: 0 ~ 45 ℃
Ambient Humidity: 5 ~ 95 % RH (Non Condensing)
Storage Temp.: -5 ~ 45 ℃
Timing Error: < 1%
Shell Material: PC +ABS ( flame retardant)
Installation Box:86*86mm Square or European 60mm Round Box
Wire Terminals: Wire 2 x 1.5 mm2 or 1 x 2.5 mm2
Protection Class: IP20
Buttons:Capacitive Touch Buttons
Package Listing:
Thermostat*1
Screws*2
User Guide*1
QC Passed*1
Floor Sensor (2.5m)*1(optional)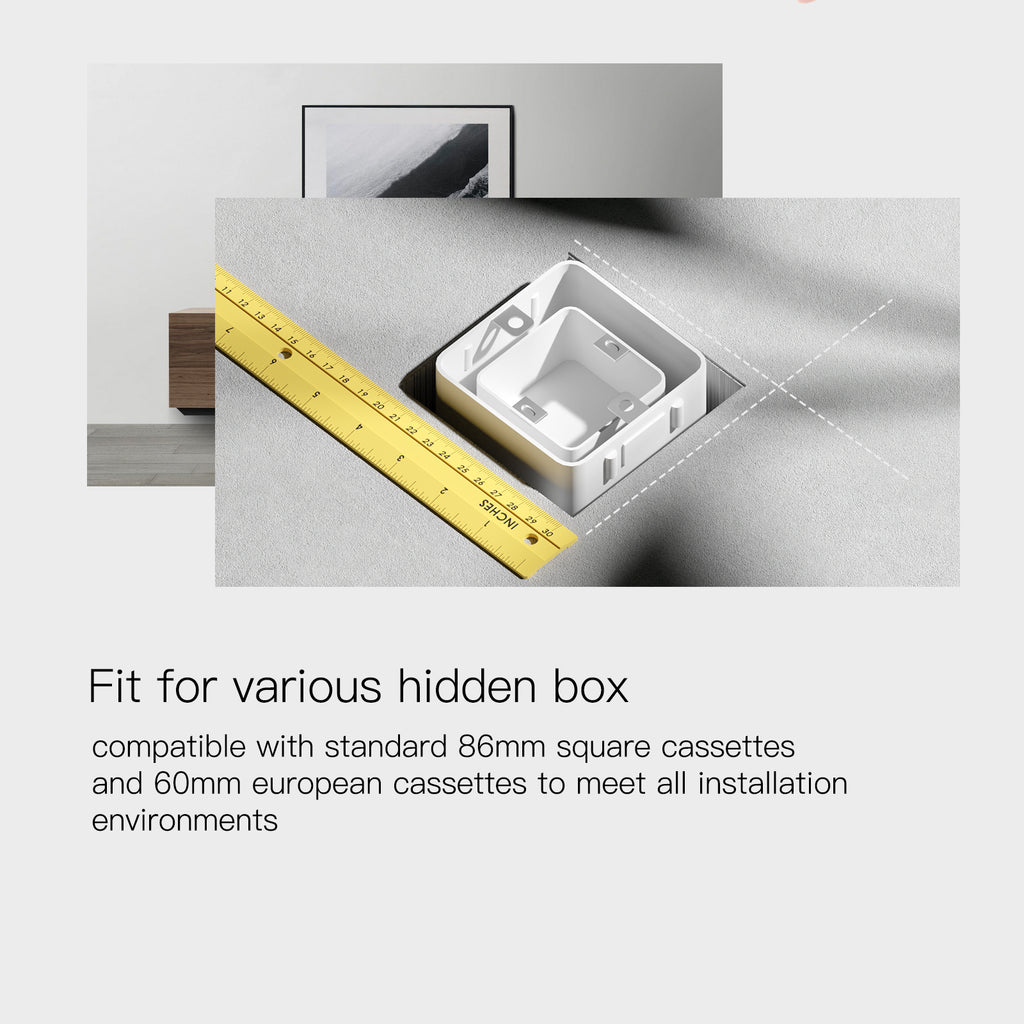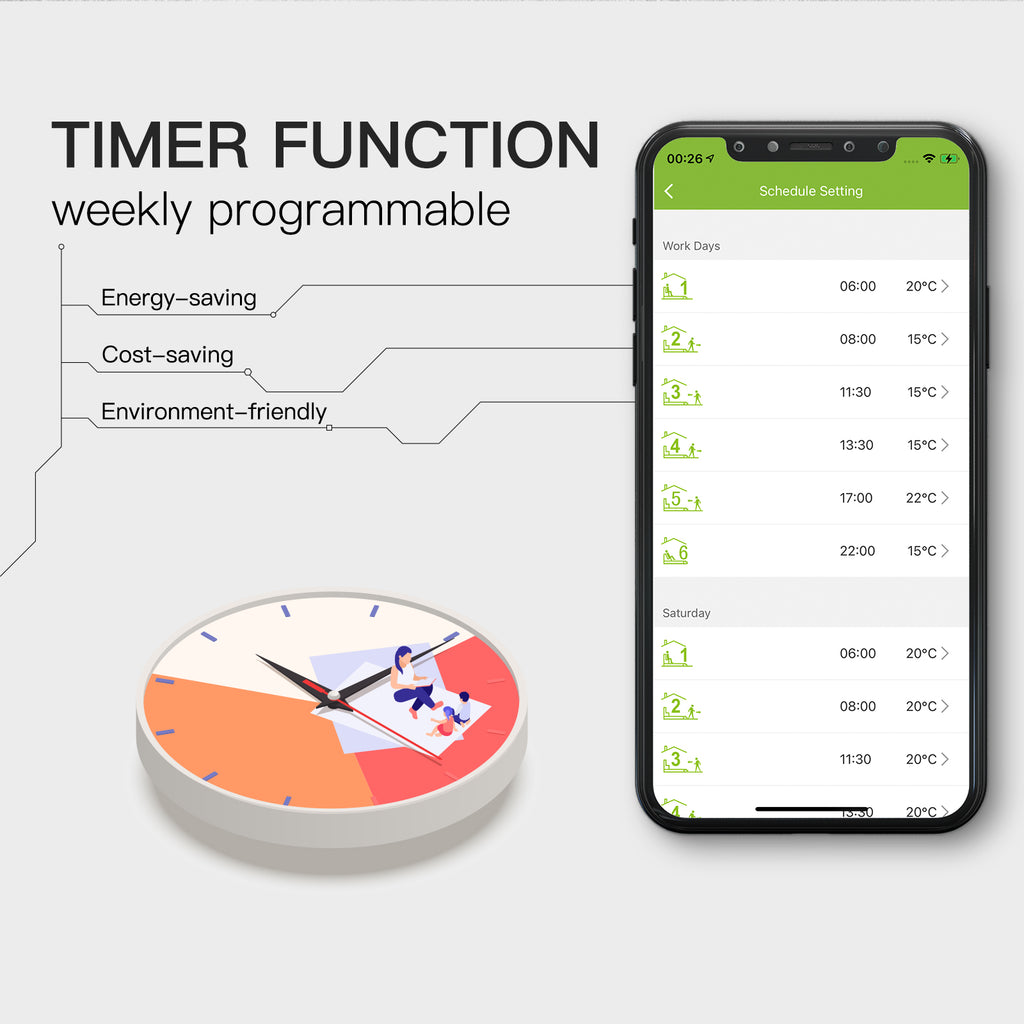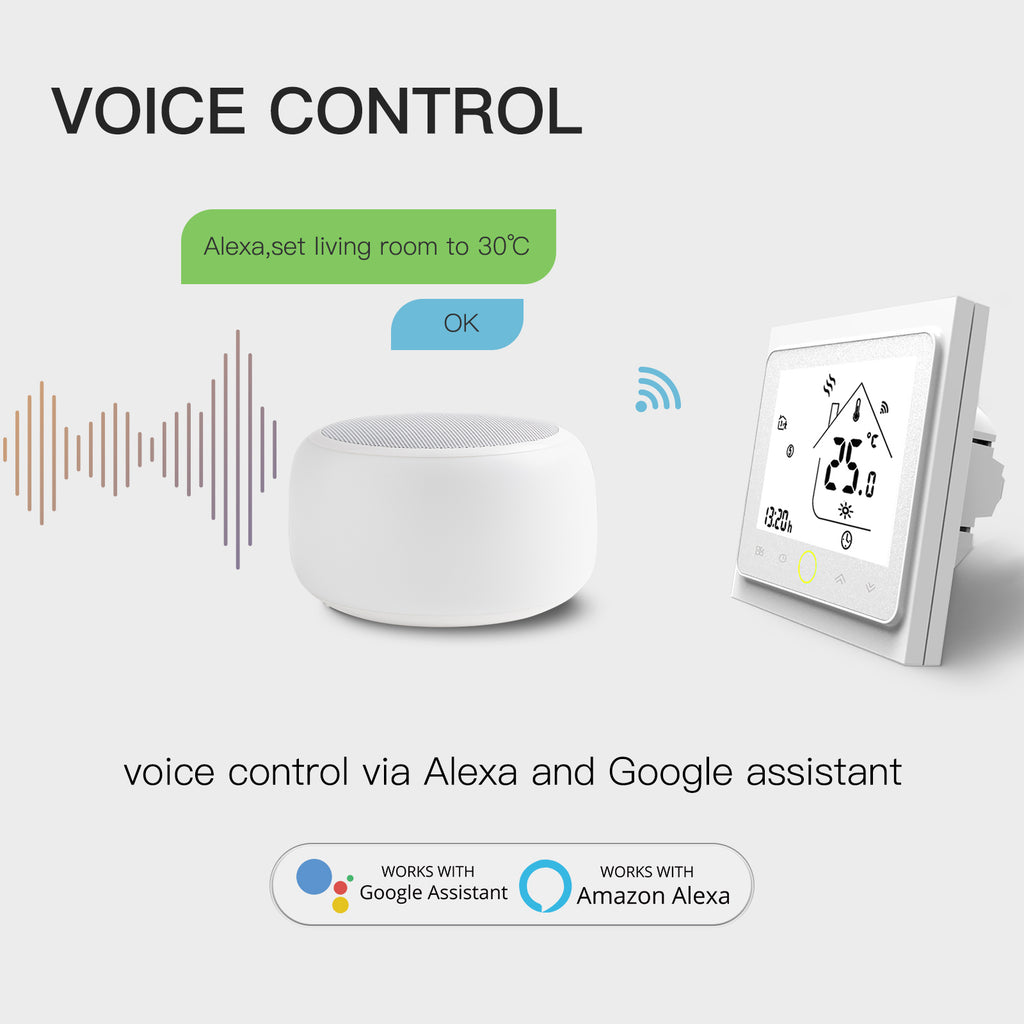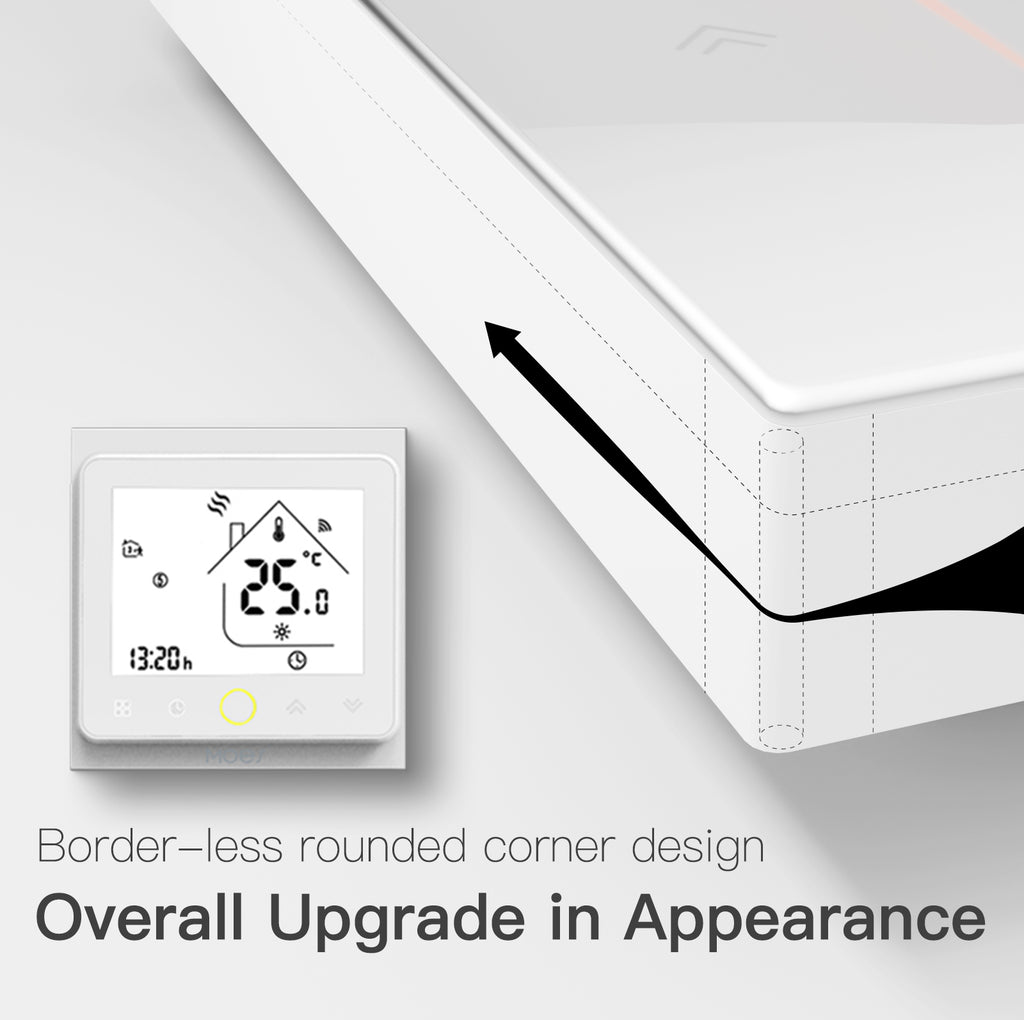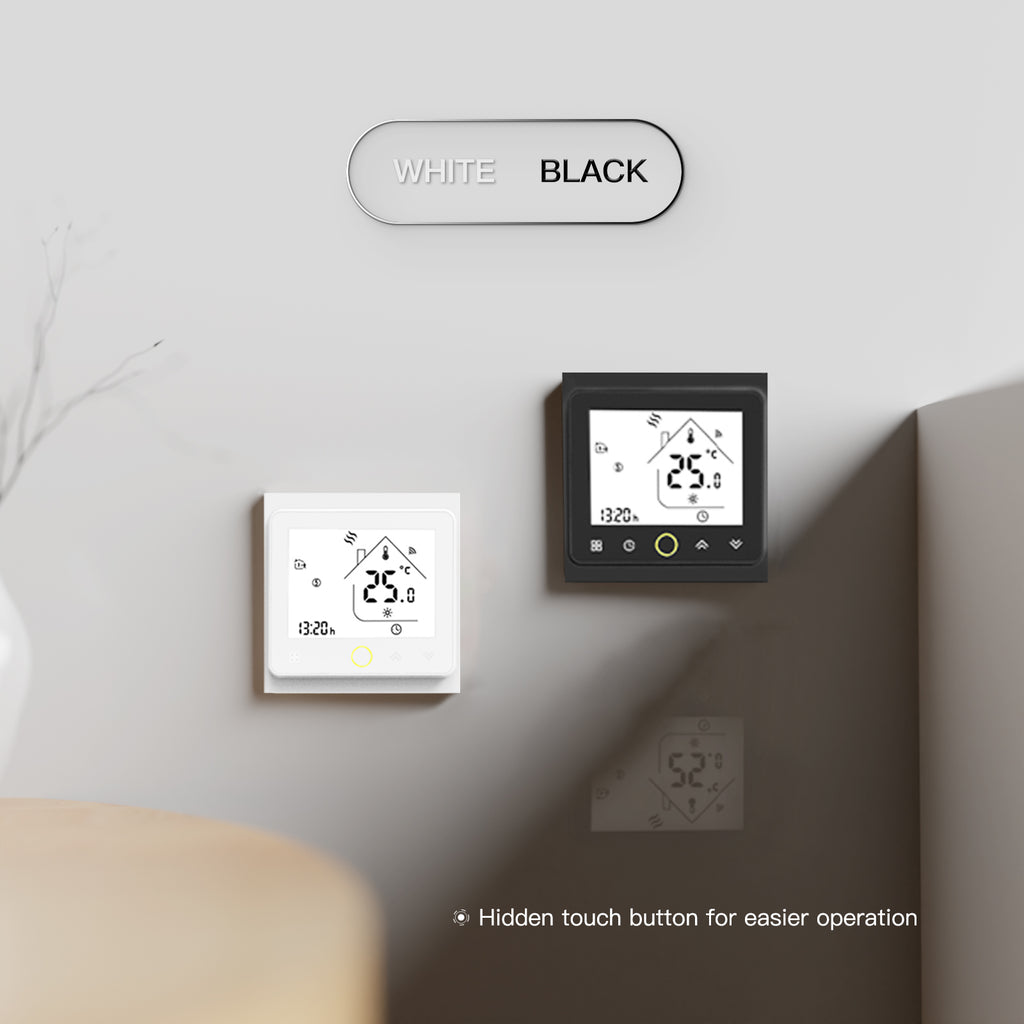 ZigBee is More Suitable For Smart Homes than WIFI
【A must for all ZigBee products】 This is a hub that connects to a variety of ZigBee smart products and is the bridge as well as a control center for smart homes that plays an irreplaceable role for all ZigBee products.
【Compatibility】 Only work with Tuya ZigBee smart products so that you can adapt your systems to your individual needs and security requirements.
【App Smart and Remote Control】Adding devices,device reset,third-party control and group control to meet the needs of smart applications,are all supported by the hub.Simply use your smart phone to control remote security kit system connected to the hub anytime,anywhere.
【Stable and Reliable Wireless Networking】WiFi signal covers a wide range of areas that is stable and reliable enough for normal work of any connected devices to the hub.(Note: zigbee hub must work in the 2.4Ghz WiFi frequency band)
【Easy to Fit】The smart gateway hub is designed with wireless type, together with an extremely quick simple WiFi setup,no professional technical skills needed
Q&A:
1.Q:Can I use my own hub to connect with the thermostat?
A:No,this thermostat can only be used with our Moes Tuya ZigBee wireless gateway hub,so we offer the set of the two for your to purchase.

2.Q:Can this thermostat be set to Fahrenheit display?
A:No,it can only be displayed with Celsius display.

3.Q:Can I program the schedule myself?
A:Yes,our thermostat is programmable.You are able to program your schedule freely,with 5+1+1 4-period schedule optional.

4.Q:Can I control the thermostat if I am not at home?
A:Yes,after successfully connecting it to the hub,then you are able to control your device on your smart phone App.

5.Q:Does this thermostat have a screen lock to prevent guests or kids from tampering with the settings?
A:Yes, it does. It has a child lock button in the App that prevents any changes or misoperation by children.

6.Q:Does it support to control via voice command?
A:Yes,it is compatible with Alexa and Google Home for easy voice control.
We ship worldwide and most countries support free shipping.
(Other countries need to pay extra shipping cost.)
The time frame for order delivery is divided into two parts;
Processing time:Order Verification,quality check and packaging.All orders are sent to the manufacturers for dispatch within 24 hours after the order is placed.The manufacturer and China Post process the orders,which takes an additional 2-4 days.
Shipping time:This refers to the time it takes for items to be shipped from our warehouse to the destination.US orders are shipped by e-Packet,which usually take between 7 and 21 business days to arrive at their destination,and sometimes it will take longer.Besides,DHL,FeDex etc are also available.
Once you have alerted us you wish to make a return through an email contact.We will email a link to start the easy return process.
We can accept Paypal and Credit card.